---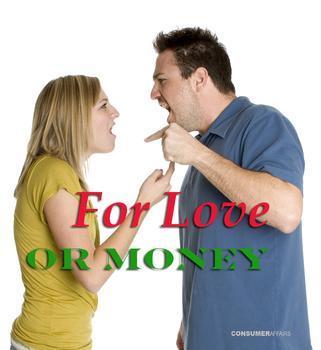 Money may or may not be the root of all evil, but online survey results suggest it is very much the root of all arguments among couples.
A poll of more than 2,100 engaged, married or pregnant women across Websites owned by media company XO Group found that money crops up in couples' arguments at every lifestage.
It can start with the wedding
For example, the survey found that half of engaged couples argue about money and finances while planning their wedding. Once married, about one-third of couples argue about when to start a family, with more than half of these couples -- 61 percent -- unsure if they have the money to have a family.
"Every couple argues, it's perfectly normal," said Carley Roney, XO Group co-founder. "We wanted to get to the cause of the issues that come up at key moments in couples' lives and find out why they clash so that we can offer help."
Be open and honest
Relationship experts say honest and upfront conversations about financial priorities and views on money are critical to a successful relationship. And in the case of marriage, some weighty financial decisions come front-loaded in the relationship.
There's the planning of the wedding, which can be very expensive. There's the matter of buying a home and the decision to start a family. Misunderstandings and conflicts easily arise unless both partners know where the other stands.
Weddings have gotten more elaborate and more expensive over the last two decades, creating a relationship mine field for many couples. Chase Blueprint, a free set of financial-management features available on select Chase credit cards, was created in part to help cardholders organize their finances and manage their spending and borrowing through all of life's stages.
More than half of engaged couples have tiffs over whether their wedding is the best way to spend the money they have. According to the Chase Blueprint, the process of planning a wedding is a good time in life to ensure that couples have a financial plan in place for the wedding and beyond.
Why not just elope?
Of the couples who clash about money and finances, about half -- 49 percent -- fight because they don't have the budget to have the wedding they want, so each and every planning detail becomes stressful to them. When parents contribute financially to the wedding, things can also get heated. Among couples where family politics has caused issues, 22 percent fought because their parents were giving them money for the wedding and then thought that gave them license to help plan, too.
The survey also revealed that three out of four married couples disagree about money and expenses. With the majority of couples arguing about money and expenses, nearly half of these couples do so because they want nice things but don't have the budget for them, and 41 percent disagree on where to spend their money.
Among couples who argue about expenses, nearly one out of three wives say they are more frugal than their partners. Of the 34 percent of couples who disagree about when to start a family, about one-third say they are not sure if they're ready for the responsibility of raising children.
Financial relationship tips
In addition to maintaining open and honest dialog about money, financial planners recommend these five steps to help couples avoid conflicts about money:
Each partner should have a separate checking account, in addition to a joint one
Make a budget and track family expenses
Set financial goals that both parties agree on and review them often
Talk about finances on a regular basis
Try to save 10 percent of your income
---