---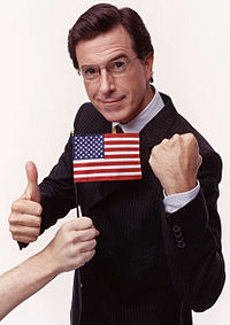 As you may already know, the comedian and political satirist Stephen Colbert is quite the character.
In 2008 the late-night talk-show host alluded to a presidential bid.
In 2010 he addressed Congress about the rights of migrant workers with sarcastic and comedic undertones, and that same year along with Jon Stewart he ran a political rally on the Washington D.C. Mall hilariously titled the "Rally to Restore Sanity and/or Fear.
Now Colbert is bringing his popular brand of mock and satire to the realm of outdoor musical concerts.
On a recent episode of "The Colbert Report," the TV commentator announced that he would be hosting an outside concert on the deck of the Intrepid Sea, Air & Space Museum, in New York City on Friday August 10, 2012.
The concert will also be taped and rebroadcast for the television audience.
The hard to pronounce concert entitled "Pepsi Presents StePhest Colbchella '012: Rocktaugustfest" will include acts like The Flaming Lips, the New York based rock band Fun, Grizzly Bear, Santigold, and old-school Hip-Hop pioneer Grandmaster Flash.
Free tickets
Tickets for the concert are not yet available, but those interested can request them for free starting August 1, at colbertnation.com, but the venue will only accommodate 1,500 people. The live show and taping begin at 7:00 p.m.
But if you're not able to secure a ticket, Colbert will have both performance clips and backstage interviews of the artists that he'll air on his show during the week of August 13.
"Folks, I know all the latest hottest bands, like Bonnaroo and Lollapalooza ... those guys are great, Colbert said in a statement. "We'll, now it's summer and that means it's time to remount my long-running, one-year tradition of throwing my own summer concert."
Ironically, Colbert isn't exactly new to delivering music through his contrived political commentator persona.
In 2011 he similarly introduced what he called "Dr. Pepper Presents StePhest Colbchella '011: Rock You Like A Thirst-icane, " which also included a series of musical artists that played each day of the week during his show.
Whether his musical offerings are sponsored by Dr. Pepper or Pepsi, Colbert is not at all short on amusing event titles.
July has been a good month for fans of the TV personality, as his home channel of Comedy Central was recently able to be watched again, after it was removed with a number of other stations during a very public dispute between Viacom and DirecTV.
Re-upped
Also last month, Comedy Central announced that both Colbert and Jon Stewart were re-upped for another two years on their contracts, keeping Stewart on the network until the 2015 TV season and Colbert until 2014.
Colbert has been hosting his weekly cable show since 2005, and has garnered several Emmy awards and a cult like following of viewers between the ages of 18 to 49.
Both the Colbert and Stewart shows have beaten out all other late night talk-shows in ratings, among the younger portion of TV viewers.
Until Colbert's potential exit from Comedy Central in 2014, people are likely to see more peculiar functions created by the host, and his New York City concert is possibly just the beginning of these abruptly announced concerts.
"We are gonna rock the boat, which won't be easy because the Intrepid displaces 41,434 tons" said Colbert. "Does Bonnaroo have cruise missiles? I think not."
The Intrepid Sea, Air & Space Museum is located on Pier 86, 12th Ave. and 46 Street on the west side of Manhattan.
---