---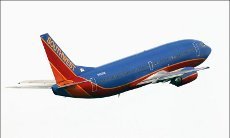 Bev, of Austin, TX, responded to a promotional email from Southwest Airlines over the weekend, taking advantage of a reduced fare to take a spur of the moment trip.
"I purchased a single ticket and no, I did not press 'submit' repeatedly," Bev wrote in a post on ConsumerAffairs. "Southwest has taken out the charge for single my ticket 18 (EIGHTEEN) times in a single evening. I have been trying to reach them all evening. I got a busy signal at first and now the phone has rung, telling me that I will be on hold for one hour and fifteen minutes to one and a half hours. Don't ever use a debit card with Southwest."
It turns out Bev was not alone. What should have been a celebration for Southwest over the weekend – reaching three million Facebook friends – turned into a nightmare for the airline's customer service staff. Many customers ended up with a dozen or more bookings when they were simply trying to buy one ticket.
The airline said it can be blamed on a computer glitch that created a booking every time a customer refreshed the Web page. By Sunday the problem was fixed and Southwest was issuing refunds.
The problem with a debit purchase
Bev's advice to never use a debit card to book with Southwest could be expanded to include any online purchase. The Southwest problem provides a good reason why.
If Bev had used a credit card, the multiple purchases would have simply gone onto her credit balance and been removed before her billing cycle was up. The double-billing would, in essence, have no impact.
But because Bev used her debit card, each of those ticket purchases will come out of her bank account. Until the airline issues the refunds, and it could be several days, Bev will not have use of her money. Worse still, 17 extra airline tickets probably overdrew her account, resulting in overdraft fees.
Fortunately for Bev and others who used debit cards, Southwest has stepped up and said it will address that issue.
Will pick up fees
"For those customers who used debit cards and have received overdraft fees as a result of the additional charges, we will process a reimbursement for all overdraft fees that were caused by duplicate charges from Southwest for a single purchase," the airline said in a statement. "If you incurred overdraft fees, please fax documentation of those fees via a letter from your bank or a copy of your account showing the fees to 877-506-0154."
Southwest said refunds are currently being processed but the speed in which money is returned to accounts will depend on the customers' individual banks.
Thanks
Keep an eye on your inbox, the lastest consumer news is on it's way!
Unsubscribe easily whenever you want
---