---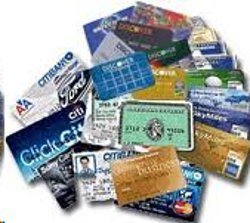 Back-to-school is a time for extra spending, not just on books and backpacks but shoes and clothing as well. Many parents will reach for a credit card, but which one?
CardHub, a financial site that analyzes credit card products, reports some credit cards are more helpful to parents than others when it comes to back-to-school purchases. It found that signing up for some cards can help shoppers save as much as $400 with initial bonuses. Some provide as much as six percent off on an ongoing basis.
For the best initial bonus, CardHub suggests the Chase Sapphire Preferred Card. It provides 40,000 bonus points, redeemable for $400 in cash or $500 in travel, for spending $3,000 during the first three months and does not charge an annual fee during the first year. After that, however, it's $95 a year.
Signing bonus
"If you simply want to get a few hundred extra dollars with which to buy school supplies or replenish your financial reserves following this extremely busy shopping season, then a card offering a lucrative initial bonus is the best choice," said Card Hub CEO Odysseas Papadimitriou. "Keep in mind that you'll need excellent credit in order to get true value, and you might not want to keep this card open past the first year given that a $95 annual fee kicks in on your first-year anniversary."
The Target Store Card, meanwhile, offers five percent cash back at Target stores and at Target.com. There's no annual fee and, as an added bonus, Target donates one percent of all your purchases to the K-12 school of your choice. The drawback is the card can only be used at Target.
What's the best all-around card? CardHub bestows the honor on the Blue Cash Preferred Card from American Express. It provides six percent cash back at supermarkets, three percent at department stores and gas stations and one percent everywhere else. If you spend $1000 in the first three months, it provides a bonus of $150.
You'll need good credit
"Extremely lucrative rewards are typically only available to people with above-average credit, and the best all-around credit cards for back-to-school shopping aren't outliers," Papadimitriou said. "Assuming that you meet this requirement, the Blue Cash Preferred Card from American Express and the PenFed Platinum Rewards Card are both great options because they offer attractive initial bonuses in addition to excellent ongoing rewards for purchases made at supermarkets and gas stations. Not only are gas and groceries most folks' biggest everyday expenses, but you can also get most school supplies at major supermarkets these days."
Meanwhile, many states are ready to help make back-to-school shopping a little less painful for consumers. States will declare a sales tax "holiday" on school supplies for much of the month of August. Some holidays will begin as early as this weekend.
---