---
The Great Recession officially ended in June 2009 but for many consumers, it feels like it has continued. That may be because for consumers, it has.
Consider that a recession is defined as two consecutive quarters of negative growth in the Gross Domestic Product (GDP), the total of all goods and services bought and sold in the economy. One small part of GDP is consumers' household income.
While the overall economy has managed at least some growth in each quarter over the last three years, consumers' incomes have declined during that same period, according to a report by Sentier Research, a survey and data analysis company. It might not be much of a stretch to suggest that while the recession has ended for the economy as a whole, it is continuing for consumers.
Income, not net worth
Keep in mind we are not talking about net worth, which would include the value of homes and financial investments. It has previously been documented that net worth has declined since the Great Recession. What the Sentier report focuses on is just income -- the money consumers receive from jobs, businesses, investments, pensions, etc.
According to the Sentier report, median annual household income declined during the recession, from $54,916 in December 2007 to $53,508 in June 2009. That's the point at which the economy began to register positive growth.
But the downward trend in household income continued, according to Sentier. During the last three years of economic recovery, real median annual household income has fallen to $50,964 -- a decline of 4.7 percent over the last three years. During the same period, the economy has grown an average 3.9 percent per quarter.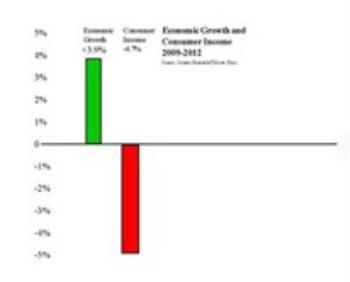 A consumer recession?
If consumer households were considered businesses, that would be negative annual growth of 1.5 percent, which would constitute a deep and prolonged recession.
"This latest report continues our efforts to help chronicle one important dimension of the economic hardships now being experienced by a large number of American households," said Gordon Green of Sentier Research. "In many ways, median household income provides a measure of the net effect of economic activity on the middle class and how well they are able to buy food, housing, and other necessities every month, especially now during this unprecedented period of economic stagnation."
Drilling deeper into the numbers, Sentier reports almost every consumer subgroup is worse off now than it was three years ago.
For households made up of consumers between 25 and 34 years old, income declined by 8.9 percent. Among households in which the householder has some college but no degree, real median annual income declined by 9.3 percent. For households headed by a self-employed person, income declined 9.4 percent. Among households with a householder between 55 and 64 years old, income fell 9.7 percent.
The only group that saw its income rise over the last three years were people over age 65, who presumably receive Social Security and funds from retirement accounts as a major part of their income.
---