---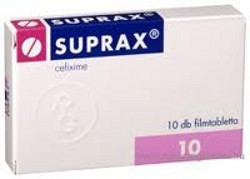 The Centers for Disease Control and Prevention (CDC) no longer recommends the oral antibiotic cefixime as a first-line treatment option for gonorrhea in the U.S. because it's possible that the bacterium that causes the venereal disease is becoming resistant to the drug.
The change was prompted by recent trends in laboratory data showing cefixime, marketed under the brand name Suprax, is becoming less effective in treating the sexually transmitted disease. That leaves just one recommended drug proven effective for treating gonorrhea -- the injectable antibiotic ceftriaxone.
Combo therapy
According to the revised guidelines, published in CDC's Morbidity and Mortality Weekly Report, the most effective treatment for gonorrhea is a combination therapy: the injectable antibiotic ceftriaxone along with one of two other oral antibiotics, either azithromycin or doxycycline.
In the past, gonorrhea has developed resistance to every antibiotic recommended for treatment, leaving the cephalosporins, which include cefixime and ceftriaxone, as the final recommended class of drugs.
In light of this history and the recent lab data, CDC researchers are concerned that continued use of cefixime may prompt gonorrhea to develop resistance to all cephalosporins. Limiting the use of cefixime now may help preserve ceftriaxone as a treatment option for a little longer.
"As cefixime is losing its effectiveness as a treatment for gonorrhea infections, this change is a critical pre-emptive strike to preserve ceftriaxone, our last proven treatment option," said Kevin Fenton, M.D., director of the CDC's National Center for HIV/AIDS, Viral Hepatitis, STD and TB Prevention. "Changing how we treat infections now may buy the time needed to develop new treatment options."
Follow-ups recommended
To guard against the threat of drug resistance, the guidelines outline additional follow-up steps providers should take to closely monitor for ceftriaxone treatment failure. According to the new recommendations, patients who have persistent symptoms should be retested with a culture-based gonorrhea test, which can identify antibiotic-resistant infections. The patient should return one week after re-treatment for another culture test -- called a test-of-cure -- to ensure the infection is fully cured.
In some instances, cefixime may be needed as an alternative treatment option. If ceftriaxone is not readily available, providers may prescribe a dual therapy of cefixime plus either azithromycin or doxycycline. Azithromycin may be given alone if a patient has a severe allergy to cephalosporins.
However, to monitor closely for resistance, if either of these alternative regimens is prescribed, providers should perform a test-of-cure one week after treatment.
Additional measures will be needed to stay ahead of untreatable gonorrhea, according to Gail Bolan, M.D., director of CDC's Division of STD Prevention. "It is imperative that researchers and pharmaceutical companies prioritize research to identify or develop new, effective drugs or drug combinations," Bolan said. "Health departments and labs can help CDC monitor for emerging resistance by enhancing or re-building their ability to do culture testing."
Serious health consequences
It is critical for individuals to take steps to protect themselves from infection. The surest way to prevent infection is not having sex. For those who are sexually active, consistent and correct condom use and limiting the number of sex partners are effective strategies for reducing the risk of infection.
Gonorrhea is one of the most common STDs in the United States; more than 700,000 infections are estimated to occur in this country each year. Although some men and women may have symptoms (such as burning when urinating or discharge), most people do not. As a result, many infections go undetected and untreated.
Left untreated, gonorrhea can cause serious health problems, particularly for women, including chronic pelvic pain, life-threatening ectopic pregnancy, and even infertility. Infection also increases the risk of contracting and transmitting HIV.
---