---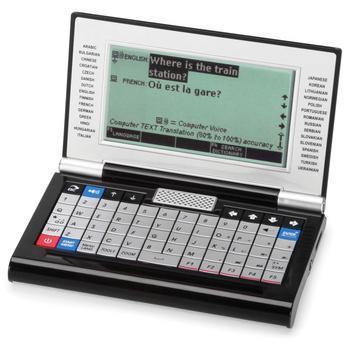 Technology and transportation advances have made the world seem smaller. Business is now global. However, the billions of people on the planet still speak different languages.
Not to worry. There are now a number of apps and gadgets that can provide instant translations when you need to translate English into Russian, Chinese or dozens of other languages.
Smartphone apps
Google Translate for Android is an app that instantly translates words and phrases between more than 64 languages. For most languages, you can speak your phrases and hear the corresponding translations.
If you are writing, you can enter text in one language and get the translated text in another. If you need to speak to someone in another language, you can hear the translation spoken aloud.
Apple's iTranslate does much the same thing for iPhone users. It will translate words and phrases in over 50 languages. You can listen to spoken translations in over 20 languages.
These apps are handy for people engaged in international business as well as tourists traveling in foreign countries. But if expensive roaming charges mean you aren't using your smartphone, a stand-alone translator might be just what you need.
Talking translator
Speciality retailer Hammacher Schlemmer has just introduced The Full Phrase Talking Translator, a device about the size of a smartphone that translates and articulates entire sentences, phrases, or single words that are typed on its keyboard.
The device provides translations to and from English for 210,000 common travel phrases and 1.8 million words in 30 different languages, the company says.
"The Full Phrase Talking Translator's database contains three times more phrases and words than previous generations and allows users to type in entries instead of requiring them to select words to translate from a finite list," said Hammacher Schlemmer's General Manager Fred Berns.
Designed for the traveler, the translator also converts eight currencies, displays the current time for 260 cities worldwide, and comes integrated with scientific and basic calculators, six games (like Sudoku), and a voice recorder. The retail price is $249.95.
Online translators
In addition to apps and gadgets, there are website that also provide on-the-spot translations. Free-Translator.com is, as its name implies, a free site. In one field you type in a sentence or phrase you want to translate, up to 200 words. The translation appears in another field.
As an experiment, we typed in English "It looks like we have a deal,
congratulations," and asked for a Spanish translation. It gave as the Spanish translation "Parece que tenemos un trato, felicitaciones."
It really is a small world after all.
---