---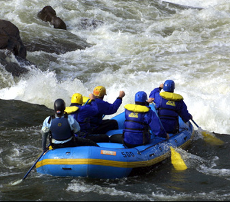 Not everybody likes to vacation the same way. While some prefer to spend their time away in a pool-side chair, others may have travel aspirations that are a bit more exploratory.
Then of course you have your extreme vacationer who needs way more than a five star hotel experience and a tour-bus package.
For them, simply ordering room service and heading to the nearest museum just won't cut it. These travelers look for experiences that exist on the outer edges of the normal travel experience.
And there are plenty of places within the United States that will cater to them.
For example, Ace Adventure Resort in West Virginia offers rock-climbing, white water rafting and zip line canopies that allows you to slide from tree-top to tree-top. And that's just for starters.
Visitors at Ace Resort can also jump on ATVs for a few hours after receiving professional lessons from an instructor. Riders will be able to motor throughout wooded trails along the New River Gorge. The is known to appeal to the extreme vacationer that also loves nature.
If an ATV is too much machinery for you, Ace Adventure also offers horseback riding, mountain biking, paddle boarding, and expert guided fishing trips.
All of these activities are set within the lush surroundings of West Virginia's gorgeous surroundings, so visitors can enjoy picturesque scenery while partaking in activities that are fun, healthful and very different from your traditional vacation experiences.
Swimming with sharks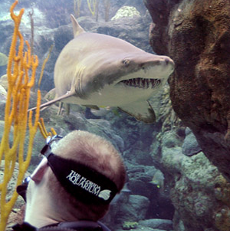 For scuba diving enthusiasts, there's The Florida Aquarium in downtown Tampa that allows you to swim up close and personal with exotic sharks from around the world.
Although there is certainly a level of danger involved, which may be the appeal for some, the diving is within a controlled environment.
For $175 per person, certified divers ages 15 and up can be led by professional dive masters through the aquarium, as the tour seeks to prove that sharks really aren't the dangerous man-eaters that people think they are.
How many times have you gone to an aquarium and wondered what it's truly like on the other side of the glass? Now divers can swim with fish and sharks from around the globe, while also getting a close and vivid look at other types of wild life that exist outside of the United States.
For those who still are a bit worried about swimming with sharks, the dive masters are certified by The National Association of Underwater Instructors, and pictures are taken during your experience that you -- or your survivors -- can purchase at an additional cost when the trip concludes.
This particular vacation idea further proves that one doesn't have to break the bank or travel halfway around the world to get a taste of an extreme vacation experience.
Live your fantasy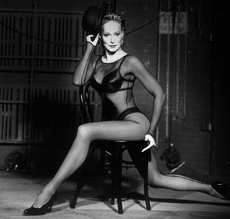 But of course not everyone is the rough and tumble type and many folks don't want to jump off a cliff during their vacation stay.
So those looking for an outside-of-the-box kind of vacation experience may want to try a fantasy camp, that allows you to live out your dream and hang out with the stars you've always admired.
Like The Broadway Fantasy camp in New York City, which is perfect for those who have dreamed about being underneath the bright stage lights, and performing in front of an audience.
Visitors to this camp will be trained daily by famed choreographers, directors, writers, and composers. They'll also be able to meet Tony Award winning actors, spend time with them, take pictures and get autographs and stage advice.
Although the camp doesn't come with lodging, it partners with the hotel InterContinental New York Times Square, so travelers going to the camp will receive a discounted rate.
Prices for The Broadway Fantasy camp depend on which package you choose.
For example, those interested in attending a fantasy session with the cast of the musical "Chicago" will spend $995 per person for a one day session, while those opting for a three day session with artists from "Cats" and "The Phantom of the Opera" will pay about $2,495 for the package.
The Broadway Fantasy camp is for vacationers 18 and over and all skill levels are encouraged to give it a go.
Get physical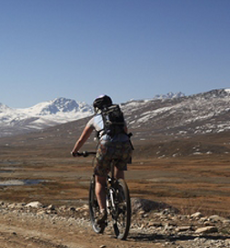 KE Adventure Travel is another company that sets up cool vacations for the physically active adventurer. For $3,295 a person, one can go on a 15-day hiking and nature excursion that concludes with a tour of the Grand Canyon.
Hikers will first start their journey in Yellowstone National Park and the Grand Tetons. From there they'll be brought to Colorado to visit obscure places amongst the Rocky Mountains and visit small ski towns in the area. The tour group will also be camping within the famous Mesa Verde National Park and learn about Navajo culture.
The cost of the trip includes airfare and lodging, and a $400 deposit is needed to reserve each spot.
For those who prefer colder climates and relish winter landscapes, DogSled Tours in Seward, Ala. may be for you. The action packed vacation experience comes with tours of well-known glaciers, actual dog sled rides, and helicopter sightseeing. Overnight stays on the Alaskan Tour are $520 per person, which isn't too bad considering what other extreme vacation packages go for these days.
What's really cool is that visitors can control a team of huskies through pristine white surroundings, while taking in the local wildlife and natural surroundings. You'll also receive training from a personal instructor so you don't spend your entire vacation trying to figure things out.
One wouldn't think so, but this particular tour is quite popular, so advance planning is encouraged and reservations can be made directly on the company's website.
So the next time you're looking for a place to escape, you may want to give an extreme vacation or a fantasy camp a try. You never know, the experience may pull out the adventurous side of you, that you never knew you had.
---