---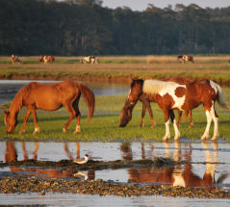 Assateague ponies
Back in the day when I had a bigger tolerance for roughing it, and a deeper desire to experience nature first-hand, I went on a lone camping trip to a place called Assateague, an island not too far from Ocean City, Md.
One of the attractions of this particular campground is its wild ponies that walk around the site. They all seem to be friendly and used to us humans.
For 24-hours it was just me, a sleeping bag and the ponies which was a little too rough for a novice camper like me. Even for that short amount of time.
After the night was over, I realized two things: One, that I probably romanticized the idea of camping and being in nature a bit, and two: Roughing it in the great outdoors might just be a little too rough for my particular taste.
I think the overall experience of the camping trip would have been better if there were a few amenities and comforts added, which is where companies like RVC Outdoor Destinations come in.
RVC caters to consumers who like the natural sights and sounds of camping, but not the challenging aspects -- you know, sleeping on the hard ground or staying in a rundown cabin with tattered furniture.
"Traditional camping typically assumes roughing it. RVC is allowing our guests to camp comfortably and on their own terms," said RVC founder Andrew F. Cates, in an interview with ConsumerAffairs. "We provide great outdoor environments with lots of amenities and comfort."
Glamping
Now classing up the camping experience with convenient extras isn't entirely new, as the term "glamping" -- short for glamorous camping -- has been growing in popularity among nature-seekers and travelers for quite some time.
If you think of a melded combination of an outdoor camping experience and staying in a posh hotel, you'll get an idea of what glamping is.
Take the place Costanoa for example. The West Coast camp site doesn't offer you a flimsy tent and mildewy sleeping bag, it instead provides you with spruced-up bungalows that are more like full-on hotel rooms. The beds even come with heated mattresses.
Some places offer gourmet food throughout the stay, which just might be a little too fancy for those who want to still feel like they're camping. RVC says their vacations are in the middle of traditional camp sites, and high-end glamping locations.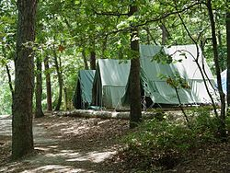 A traditional campsite
While some enjoy downscaling their usual lifestyle for a few days when camping, many don't want to fish for their meals or head down to the stream for a cool drink.
For those hardy, souls, there are still plenty of RV sites and campgrounds that seemingly refuse to upgrade their locations, and assume that campers prefer a rougher, tougher and more traditional experience.
"It's safe to say that the RV park and campground industry hasn't changed in a meaningful way for over four decades," says Cates. "This is due to a few things, including the fact there has been no real segmentation, differentiation or consistency in the market. RVC is creating and leading the high-quality full service (i.e. "Hilton") niche in what has become the inevitable evolution of the industry."
"Also, many owners simply don't have the capital to improve and/or don't believe it is worth improving outdated, obsolete properties," he said.
Cates also says the kind of trips RVC provides can be a moneysaver for consumers, compared to going on a traditional family trips like Disney World, for example.
Free wi-fi
"You can choose from multiple lodging options [like] RV sites, fully furnished and climate controlled yurts, [and] cabins. And no matter how you stay with us, you will get free Wi-Fi, great pools, fitness center, good coffee, wine/beer availability, hiking, boat access, cable TV and more — all included with your rate," he explains.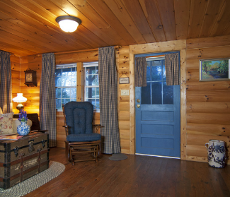 An RVC cabin in North Carolina
He also says camping is ideal for children, because of its educational benefits and opportunities for good physical activity.
"Quality family time and connection to nature -- you simply cannot beat getting kids outside and doing it alongside parents and/or grandparents," Cates says.
RVC Outdoor's destinations are mainly located on the East Coast with several grounds in Florida, one in Georgia, one in Arkansas, and one in North Carolina.
The cost of stay for an RVC trip depends on which type of lodging package you choose. A resort cabin that sleeps four is $139.95 per day. It's equipped with a TV and kitchen, plus heating, air-conditioning and Wi-Fi.
You can also opt for a smaller cabin for $89.95 a day, which also sleeps four. Or, a 16-inch yurt that costs $67.95 a day. Obviously, the bigger housing packages you go with the higher the costs will be.
So the next time you have a taste for camping but don't want to rough it or glamp it. You may want to check out RVC. It's pretty cost effective and could be a unique vacation experience for you and your family.
---