---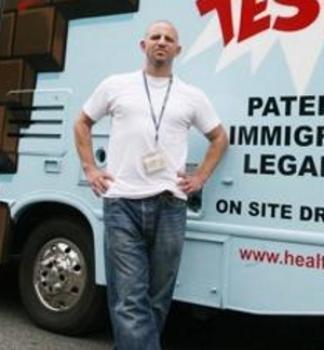 A lot of industries have picked up on the concept of offering their products through a truck that drives around town. Food companies first introduced the craze, then clothing brands, and even antique shops have gotten into the idea of bringing their products directly to the people.
But just when you thought you've heard it all, there's a truck in New York City that's selling, of all things, DNA paternity tests.
The truck's owner Jareed Rosenthal drives it on behalf of Health Street, a company that provides background checks, drug screenings and other types of services across the country. Rosenthal says many parents come to him full of worry and uncertainty. Although he's glad for the business, he said he feels their pain.
"It's just drama, a lot of drama," he says. "You see a man come in with a baby. You see them together and you just hope that he's the father."
The truck which shamelessly has "Who's Your Daddy" written on its side, has been recently located in the downtown section of Manhattan on the Lower East Side.
Mail or in-home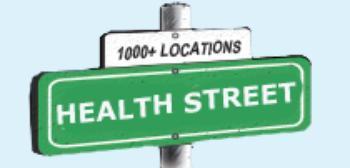 Rosenthal charges anywhere from $299 to $575 for the test, and customers have the option to have the results mailed to their home, or given to them in person once the tests come back from the laboratory.
According to a published report, the number of men taking paternity tests has increased by 64 percent within the last ten years, and over 400,000 males have undergone testing since then. Results of the test are reported to be 99 percent accurate.
By swiping the inside of one's cheek, a person can determine the truth about a child's true parent in about two days' time. Rosenthal says just the sight of the truck is enough to prompt people to get spontaneously tested.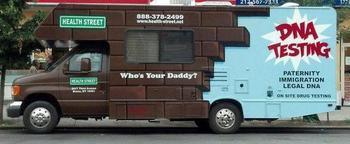 "They flag us down, they pull us over, they talk to us," he says. "Half the job is to be a psychologist to folks."
But those interested don't actually have to flag down the truck to be tested, as they can also make calls for an appointment. Conveniently, the truck will drive to an area that's closer to you, or it will come directly to your home.
"Sometimes, because of the nature of the services, they want to be a little more discreet about it, but they do come or they'll call the number," Rosenthal says.
OK, so who is your daddy?
Rosenthal also says he gets plenty of women who stop by the RV truck to have their kids tested, in an effort to learn who the actual father is. "I had one woman get six kids DNA tested once," he said. "Something about the RV makes it more intimate and people open up. It makes it is easier for them"
It would be easy to compare the paternity truck to the Maury Povich show that now seems to base most of its shows on who real fathers are. But Rosenthal doesn't want to be compared to the long-running TV talk show.
"We try to be the anti-Maury," he stated. "They just do that stuff so they can prey on the fighting."
Rosenthal says a lot of people in the armed forces have either phoned him, or visited his truck. "I get a lot of military requests," he says. "I think when they're away, they want the assurance."
Although the truck is parked within a residential area, and really stands out with its weird blue and black color-scheme, residents don't seem to mind, as few complaints have been reported.
Only in New York folks, only in New York.
---