---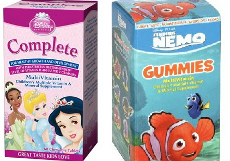 If you bought Disney- or Marvel Hero-themed vitamins for your kids during the last few years, you may be eligible for a refund.
The Federal Trade Commission (FTC) is providing the refunds as a result of a settlement with vitamin marketer NBTY Inc. and two subsidiaries, which agreed to pay $2.1 million to settle charges that they made false health claims about their multivitamins.
Among the vitamins are those that featured characters such as the Disney Princesses, Winnie the Pooh, Finding Nemo, and Spider-Man. They were sold by major retailers such as CVS Pharmacy, Wal-Mart, Target, Walgreens, Kroger, Kmart, Meijer, and Rite Aid, as well as online.
The FTC urges consumers who believe they may have purchased them between May 1, 2008 and September 30, 2010, to file a claim online, or call 866-224-4336 and request a paper claim form in the mail. Eligible consumers will have until October 12, 2012 to file their claims.
As part of its ongoing efforts to stop bogus health claims, the Federal Trade Commission reached a settlement in 2010 requiring children's vitamins marketers NBTY, Inc. and two subsidiaries to stop making false and unproven claims that their multivitamins promote healthy brain and eye development in children.
The FTC charged NBTY, Inc., NatureSmart LLC, and Rexall Sundown, Inc., with making deceptive claims about the amount of DHA in their children's vitamin gummies and tablets, and the effect of that amount on eye and brain development in children.
---