---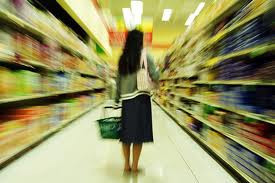 Trips to the grocery store are getting more expensive and the cost will rise even more in the months ahead as the effects of this summer's drought make their way into the marketplace.
But a savvy consumer can still eat well while staying on a budget. It just may require a little more work and creativity.
First, if you aren't using coupons, start. You don't have to become an extreme couponer, just be aware of savings on the items you normally buy. The savings may seem small but they quickly add up.
Sites like Groupon and Coupons.com may be a good source of savings, but check with your local grocery store to make sure they accept online coupons. Not all stores do. Scan local newspaper inserts for savings and don't forget to check your grocery receipt.
Often stores will give you coupons at check-out that can be used on your next trip. Since these savings are often for items you have just purchased and perhaps buy on a regular basis, this may be the most targeted source of savings there is.
Make a list
The second step to saving at the checkout counter is to plan each trip to the supermarket carefully. No more heading down the grocery aisle without a list.
Plan meals for the next several days, making a list of the things you'll need to prepare them. Plan meals around what produce is in season. The quality and prices will be better.
Avoid pre-cut or pre-portioned food. In most cases the price of convenience is not worth the added cost.
Look for sales and stock up. That's what your freezer is for. Meat and bread are both items that will keep for extended periods. Use a permanent marker and write your purchase date on the package so you know how long it's been in the freezer.
Meat prices, especially, are rising in response to the drought. Try to buy it when it has been marked down. It would be helpful to know if the meat department at your supermarket has a regular time each day that it drops the price on meat that hasn't sold.
Don't neglect the top and bottom shelves
When you're cruising the grocery aisles, look at all the shelves. The store stocks the items it really wants to sell at eye-level. Some bargain-priced items might be found by checking the top and bottom shelves.
Finally, reduce portion sizes. Most U.S. consumers have gotten into the habit of eating too much at meals, which contributes to obesity. You can eat well without eating a lot.
Because of the effects of the drought, consumers can expect to see a three to four percent rise in commodity food prices next year. But those higher costs will also have a ripple effect throughout the entire food chain, so that nearly all food costs are expected to rise.
But with some careful planning and savvy shopping, consumers can actually achieve savings greater than the price increases.
---