---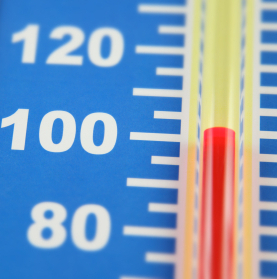 Much of the U.S. remains in the grip of a severe drought brought on by a series of heat waves. While much attention has been focused on the impact this is having on crops and livestock, a medical historian says these heat waves are extremely dangerous for people too.
A hurricane might claim 100 lives as it devastates a coastal area. A tornado may kill a dozen people as it wipes a small town off the map. But a heat wave, says Richard Keller, a University of Wisconsin-Madison professor of medical history and bioethics, can kill tens of thousands.
Keller is compiling a detailed account of the epic 2003 heat wave that broiled parts of Europe that summer and killed an estimated 70,000 people. Over a three-week period in August that year, a massive high-pressure system parked over Europe, producing the hottest summer weather in more than 500 years and leading to most of those fatalities.
Melted electrical cables
It was so hot electrical cables melted, nuclear reactors could not be cooled, water pumps failed and museum specimens liquefied, Keller says.
Hurricane Katrina was perhaps the worst hurricane in recent memory when it devastated New Orleans and the Gulf Coast in 2005. The death toll was 1,836.

The European heat wave of 2003, meanwhile, took a deadly toll in France, when temperatures surpassed 100 degrees Fahrenheit on seven days.
"Measured by mortality, it was the worst natural disaster in contemporary France," said Keller.
According to official estimates, 14,802 people died. Because it was August, Keller says many public officials were on vacation and were unaware of the scope of the catastrophe that was developing. The first to realize what was happening were French undertakers, who were being overwhelmed with bodies.
Social variables
Contributing to the death toll, says Keller, were a number of social variables such as age of the victims, social status, gender and where they lived. In Paris, many of the victims were elderly women who lived alone, usually on the top floors of cheap, poorly ventilated walk-ups.

"People who lived in these apartments died like flies," said Keller. "This was as much a social as a health and epidemiological disaster. There were social factors that made some people much more vulnerable."
As America sweats through a particularly grueling summer, there are lessons from that 2003 disaster that could save lives. First, age is a big risk factor.
Elderly at risk
The elderly often don't notice the effects of dehydration and so tend not to drink enough water. Sometimes the medications older people take can magnify the effects of extreme heat. But Keller says the single biggest factor for dying in a heat wave is if you live alone.
Both are points that should be considered when caring for elderly family members. If an elderly relative lives alone, August might be a good time to make a visit, or have them visit you. Meanwhile, Keller argues that more attention should be paid to the dangers of extreme heat.
"We have to recognize that heat kills far more people than the cold and that those most likely to die are people on the social margins of society," Keller said.
---