---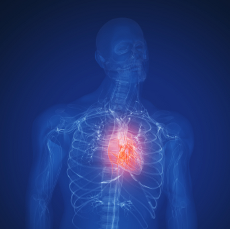 It's not always easy for doctors to diagnose a heart attack. But a new algorithm gave a definitive answer within one hour in 77% of patients with acute chest pain, according to a report published Online First by Archives of Internal Medicine, a JAMA Network publication.
Patients with symptoms that suggest an acute myocardial infarction (AMI), or heart attack, account for about 10 percent of all emergency department consultations. Along with clinical assessment, electrocardiography and measurement of cardiac troponin levels are the diagnostic cornerstones.
"The use of this algorithm seems to be safe, significantly shortens the time needed for rule-out and rule-in of AMI, and may obviate the need for prolonged monitoring and serial blood sampling in 3 of 4 patients with chest pain," the authors conclude.
The need for such diagnostic tools increases daily. In a commentary accompanying the study, L. Kristin Newby, M.D., M.H.S., of Duke University Medical Center, Durham, N.C., writes: "With increasing ED [emergency department] overcrowding, more effective tools are needed to enable rapid triage of patients with possible MI [acute myocardial infarction]."
False positives
The development of sensitive and high-sensitivity cardiac troponin tests appears to have improved the early diagnosis, but how best to use these assays in clinical practice is not clear because the more sensitive tests have increased the number of positive results in conditions other than AMI, according to the study background.
Tobias Reichlin, M.D., of University Hospital Basel, Switzerland, and colleagues sought to develop and validate an algorithm to rapidly rule-in or rule-out an AMI. The prospective multicenter study enrolled 872 patients with acute chest pain presenting to the emergency department and AMI was the final diagnosis in 147 patients (17 percent). The algorithm incorporated troponin level baseline values and absolute changes within the first hour.
The algorithm was developed in a sample of 436 patients and validated in the remaining 436 patients.
---