---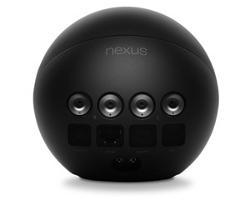 Google says it is postponing the launch of the Nexus Q, a black orb that looks kind of like a solar eclipse or a really dirty snowball. The company didn't give a reason, other than to say it wanted to make it work "even better," which sort of indicates it doesn't work very well at all.
We're not quite clear on what the Nexus Q is supposed to do, frankly. Google says it's a music- and video-streaming device. It's being sold through the Google Play store for $299 and was supposed to ship in July.
Instead, eager consumers who had placed orders got an email saying that because of "initial feedback," the company had decided to "postpone" the launch, although it didn't provide a new shipping date and the device doesn't seem to appear on Google Play anymore.
So what is this Q thing anyhow?
It sounds like it's similar to the Roku, a fantastic little box that sells for as little as $49 and connects to just about every major entertainment source on the Web. Or maybe not.
There's still a Nexus Q on Play but instead of a piece of hardware, it's an Android app that can be used, the site says, "to set up your Nexus Q at home."
"Each Nexus Q device is designed to control the equipment in one room: speakers, AV systems, TVs, and more. Each room with a Nexus Q appears in the Nexus Q app, where you can control what's playing and at what volume, or (for music only) stream to multiple rooms at the same time," the site explains.
Why would you want the app if Google hasn't shipped the Q?
"You don't need a Nexus Q device to use the Nexus Q app," Google explains. "You just need a friend who has at least one Nexus Q and will let you stream your own music, movies, and TV shows through it."
OK, that's settled, then.
Lukewarm reviews
Initial reviews of the device were lukewarm at best. Tim Stevens at engadget called it "a dimly glowing, ominous-looking and completely silent ball that can't do a damned thing."
Well, actually it can do a few things. It can stream YouTube video to your TV and music from Google Play to your speakers, all controlled from your Android phone. That's it. That's all.
You think $300 is a little steep for that? So did Stevens and most other reviewers who actually got their hands on the thing.
Maybe Google read those reviews too and perhaps the big black ball will reappear with greater functionality. As it is now, it's sort of halfway to being an Apple device -- cute but not yet very functional.
---