---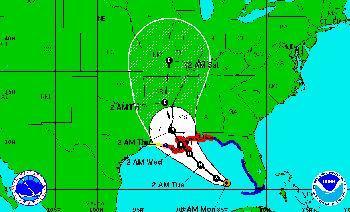 With much of Florida feeling the effects of Tropical Storm Isaac, some gas stations appear to be raising their prices. Florida Attorney General Pam Bondi is warning these stations, and other retailers, they could face state charges if they are found to be price gouging.
Florida law prohibits extreme increases in the price of essential items food, water, hotels, ice, gasoline, lumber and equipment needed as a direct result of an officially declared emergency.
Miami TV station WFOR-TV reports at least one south Florida gas station has raised the price of regular gasoline to $4.49 a gallon -- about 60 cents higher than some of its competitors. Over the weekend Bondi activated her office's price-gouging hotline.

"With thousands of visitors traveling to Tampa Bay for the Republican National Convention, we will protect all residents and visitors from unscrupulous individuals who attempt to prey on consumers," stated Attorney General Pam Bondi. "I encourage everyone to prepare for Tropical Storm Isaac before the storm arrives."
Penalties
Businesses found guilty of violating the price gouging statute are subject to civil penalties of $1,000 per violation and up to a total of $25,000 for multiple violations committed in a single 24-hour period.
Hurricane Isaac, meanwhile, has drifted to the west and appears to have spared Florida its full impact. However, the rest of the Gulf Coast might not be so fortunate. Mississippi Governor Phil Bryant has urged residents of his state to "prepare for the worst."
The storm is expected to make landfall early Wednesday -- eerily the seventh anniversary of Hurricane Katrina's landfall on the Gulf Coast, causing massive devastation to New Orleans and the coastal region. Isaac is expected to pack much less punch than Katrina, however. It's expected to be a category 2 storm with top winds of 96 miles per hour.
---