---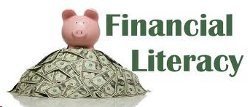 Federal Reserve Chairman Ben Bernanke says smarter, better informed consumers will make the U.S. economy stronger.
In a speech to educators, Bernanke stressed the need to include financial education as part of school curriculum to help students achieve a greater level of financial literacy.
"Financial education supports not only individual well-being, but also the economic health of our nation," Bernanke said in a speech in Washington. "As the recent financial crisis illustrates, consumers who can make informed decisions about financial products and services not only serve their own best interests, but, collectively, they also help promote broader economic stability."
Bernanke said a campaign to teach people smart financial planning--such as budgeting, saving for emergencies, and preparing for retirement -- could not only raise living standards but help people weather financial shocks. Bernanke said research by Federal Reserve Board staff members on the effectiveness of financial education for young military personnel found that those who had taken a high school financial education course were more likely to save regularly.
Essential skills
"Effective financial education is not just about teaching students about financial products or performing financial calculations," Bernanke said. "It also involves teaching them the essential skills and concepts they will need to make major financial choices."
For example, he said high school students might not recall specific information from a lesson about loans a year later when they go to get their first car loan or student loan. However, if they understand and remember some basic ideas, like the importance of shopping around for a loan to get the lowest interest rate, to review the fees charged, and to know how to contact financial counselors and advisers, they will be more likely to make a good decision.
Improved financial literacy might also keep them out of trouble while they are still students. With student loan debt mounting at an alarming rate, Bernanke suggests students approach the funding of their education much like an economist would.
Avoiding student loan debt traps
"Students with some exposure to economic thinking will be more likely to conceptualize their spending on postsecondary education as an investment in their own human capital and choose their school, course of study, means of paying for their education, and profession with that thought in mind," he said. "Likewise, the economic tool of cost-benefit analysis should help students make sounder personal and financial decisions."
Bernanke says the Fed has identified five areas where American consumers need to improve their knowledge and skill: earning and income, spending, saving and investing, borrowing and protecting. He says it's unrealistic to expect different behavior until consumers gain knowledge and understanding of these concepts.
"For example, in the category of earning and income, students are expected to know the difference between gross pay and net pay, and information about benefits and taxes," Bernanke said. "With this knowledge, they can understand their pay stubs and take full advantage of their workplace benefits."
Currently, Bernanke said these five core competencies are incorporated in the National Standards for Personal Finance being developed by the Council for Economic Education.
---