---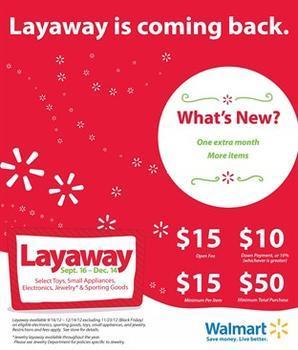 It's not too early to start shopping for Christmas, at least as Walmart sees it. The giant retailer is bringing back its Christmas layaway program this year. Available nationwide Sept. 16 through Dec. 14, layaway at Walmart gives families an extra month to shop.
"Last year, millions of Americans relied on layaway at Walmart to provide a great Christmas for their families. Because of their feedback, we're offering the service again this year and making it better than ever," said Duncan Mac Naughton, chief merchandising and marketing officer, Walmart U.S.
Not everybody thinks this is exactly a gift.
"These layaway programs are nothing more than hideaways for sky-high interest rates that consumers would never tolerate with a credit card," said Senator Charles E. Schumer (D-NY) as he lambasted Walmart last year. "The holiday season is supposed to be about giving and not taking, but these layaway programs are taking advantage of people and charging them outrageous interest rates, under the guise of making it easier and more affordable to shop."
Citing the prospect of layaway fees that are the equivalent of an 81% credit card APR for a $100 purchase, Schumer called on the Retail Industry Leaders Association (RILA) and the National Retail Federation (NRF) to work with member stores to clearly and prominently display the sky-high interest rate equivalent of the fees these programs charge so that consumers are better informed about the total price they're paying.
New features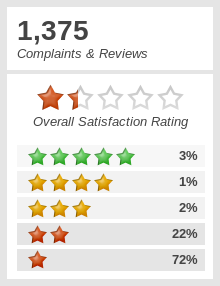 Walmart may not have granted Schumer's every wish but it has expanded the program with these new features:
An expanded list of eligible categories, including small home appliances and select sporting goods such as basketball goals, trampolines and large exercise equipment. Customers can also use layaway for a broad selection of electronics, toys and jewelry.
Early layaway access for shoppers who "like" their local Walmart store on Facebook. Customers simply need to sign up on their local Walmart Facebook page beginning August 28 to be able to start their layaway two days early on Sept. 14.
A full refund of the layaway open fee ($15) given on a Walmart gift card for customers who make their final payment.
Process and Pricing
A down payment of 10 percent or $10, whichever is greater, is required and is applied to the purchase.
Individual items must be priced $15 or more, and the total layaway purchase must be at least $50.
If the order is cancelled or not paid in full, the open fee is not refunded; however, no additional cancellation fee will be charged.
| | | |
| --- | --- | --- |
| | 2011 Layaway | 2012 Layaway |
| Days to Pay | 60 | 90 |
| Open Fee | $5 | $15 |
| Down Payment | 10% or $10, whichever is greater | 10% or $10, whichever is greater |
| Cancellation Fee | $10 | $0 |
| Total Refunded when Completed | $0 | $15 (gift card) |
Schumer said last year that if merchants didn't more fully disclose the fees associated with their layaway programs, he would ask the Federal Trade Commission (FTC) to get involved.
There's no much evidence that's happened, although the FTC does offer some advice for layaway shoppers on its website, consisting mostly of reminders to read the layaway program's terms carefully. An excerpt:
Look for details on:

the terms of the layaway plan: how much time you have to pay for the merchandise or service; when your payments are due; the minimum payment required; and possible charges for using the plan, like a service fee. Find out if there is a fee or a penalty for missed or late payments: Will your contract be cancelled? Will the merchandise be returned to inventory?
the refund policy: If you decide you don't want the merchandise after you've made some or all the payments, can you get a refund? Retailers' policies may differ: some give you all your money back; others may charge a non-refundable service fee; still others may offer a merchant credit for the amount you paid.
For its part, Walmart notes that terms and conditions of its layaway program may vary from one start to another. Details of the program's open fees and refunds can be found at www.walmart.com/Layaway.
Shopping list
If you're wondering what to buy, Walmart says it has also worked with major brands to ensure the holiday season's top electronics and toys are available in time for its mid-September layaway launch. A few of the season's most coveted gifts include the following:
Apple iPad
FURBY by Hasbro
LEGO City The Mine
Vizio Smart, 3D HDTVs
Monster High® High School
HP Ultrabook Laptop PCs
---