---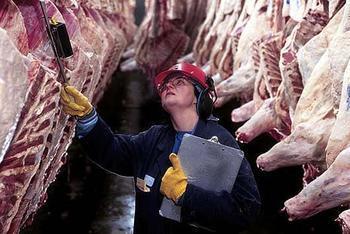 Central Valley Meat in Hanford, CA, has been shut down.
The company was notified by the Agriculture Department's (USDA) Food Safety and Inspection Service (FSIS) that it was immediately suspending the assignment of inspectors at the establishment on August 19 -- effectively halting slaughter operations at the establishment.
Within hours of being provided video taken by an animal welfare organization, USDA initiated an investigation, dispatching several teams of investigators to California and gathering information on the ground.
In terms of humane handling, FSIS found violations and suspended the mark of inspection. The teams will continue to examine the violations which have been documented in the video provided.
In terms of food safety, the video footage provided to USDA does not show a "downer" animal entering the food supply. However, the department is conducting a thorough investigation that encompasses food safety and will respond appropriately to its results.
"Our top priority is to ensure the safety of the food Americans feed their families," said Al Almanza, Administrator of the Food Safety and Inspection Service. "We have reviewed the video and determined that, while some of the footage provided shows unacceptable treatment of cattle, it does not show anything that would compromise food safety. Therefore, we have not substantiated a food safety violation at this time. We are aggressively continuing to investigate the allegations."
The regs
USDA food safety regulations state that, if an animal is non-ambulatory disabled at any time prior to slaughter, it must be condemned promptly, humanely euthanized, and properly discarded so that it does not enter the food supply.
FSIS is responsible for ensuring that meat, poultry, and processed egg products are safe, wholesome, and accurately labeled, and also works to ensure industry's compliance with poultry good commercial practices and with the Humane Methods of Slaughter Act (HMSA), which requires that livestock be handled and slaughtered in a humane way.
---