---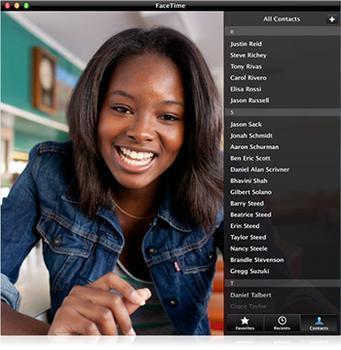 Current iPhone owners can use the product's video FaceTime feature if they are accessing the Internet through a Wi-Fi connection. But when Apple issues the next update of its iOS, the iPhone will be capable of making these video calls using their carrier's cell signal.
All of a sudden carriers could see a big jump in bandwidth demand from iPhone users. AT&T has let it be known that, once the new operating system is out there, only AT&T iPhones on a shared data plan will be able to use the carrier signal for video calls. Those still on the older, unlimited data plans will have to continue using Wi-Fi.
Data drain
The reasoning is understandable. Those on a shared data plan have a fixed amount of bandwidth to use during each billing cycle. AT&T doesn't really care how customers use it.
But customers on the grandfathered unlimited data plans could significantly increase network demands if they are able to make unlimited video calls. While it's not hard to understand AT&T's reasoning, the public interest group Public Knowledge says it doesn't make it right. In fact, the group says it might not even be legal.
"By blocking FaceTime for many of its customers, AT&T is violating the FCC's Open Internet rules," said John Bergmayer, Senior Staff Attorney at Public Knowledge. "These rules state that mobile providers shall not 'block applications that compete with the provider's voice or video telephony services.' Although carriers are permitted to engage in 'reasonable network management,' there is no technical reason why one data plan should be able to access FaceTime, and another not."
Cutting into revenue
Bergmayer says "over-the-top" communications services like FaceTime are a threat to carriers' revenue, but the companies should respond by competing with these services and not by engaging in discriminatory behavior. AT&T says it isn't an issue because all iPhone users can continue to use Wi-Fi for FaceTime.
FaceTime is Apple's system for two-way video calling, allowing users to talk to each other face-to-face from an iPhone, iPad or Mac. The calls are made over an Internet connection and most of these connections are wired and unlimited. Cell networks are more limited and carriers, in recent years, have begun to look for way in which to limit usage as the proliferation of smartphones has greatly increased data demand.
Over the summer both Verizon Wireless and AT&T have moved to shared data plans, requiring all new customers to choose a measured amount of bandwidth that they can use during a billing cycle. Both companies hope to eventually eliminate most grandfathered unlimited plans, requiring these customers to move to a shared plan when they purchase a new subsidized phone.
---