---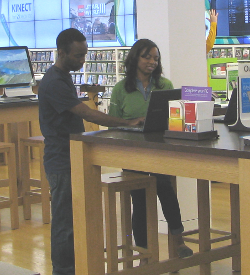 Our man Daryl hard at work
When it comes to purchasing a laptop or tablet at a retail location, many think of Apple stores first.
With Apple's neon signage, wide open floor space, and many products to test out, the chain has done a good job of making their stores a fun and interactive place to visit.
But what if you're not a Mac person and Apple is not your choice of fruit when it comes to buying electronics? You might want to head to one of Microsoft's retail locations.
First being introduced to the public back in 2009, Microsoft retail stores have kind of lingered in Apple's shadow when it comes to electronic brick-and-mortars. The first store opened on the West Coast and eventually spread out to the East by 2011.
Today you can find stores in many neighborhoods and malls throughout the United States, and it seems Microsoft has taken some of Apple's store ideas when it comes to making its shopping experience seem eventful.
This was apparent when I went into the Microsoft store in Tysons Corner, Va., inside the Washington, D.C. area's largest shopping mall.
Not only was I eager to see what was available in the laptop and tablet world, I wanted to get a peek at what the overall shopping experience was like, since I've been only to Apple stores a lot lately.
Upon walking into the Microsoft store, I noticed a very similar set-up to Apple locations.
Plenty of eager store associates were spread around the floor ready to pounce with assistance, and the surroundings had a lot of colors and bright images to make the place seem part gadget store and part discotheque.
Vizio CT15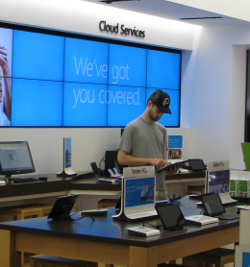 But it's all about the store's products, right? Of course a cool shopping experience is nice, but what's actually on the shelves ultimately separates any store from its competition. So the first thing I checked out was the Vizio CT15 laptop for $1,249.
The first thing I noticed was how thin the laptop was, but ironically it wasn't that light in weight. It's almost like my eyes and brain were deceived, because one usually associates thinness with lightness, but not in this case.
Also the overall design of the model is pretty ho-hum, as it seems Microsoft kind of wants to stay away from extreme flash. Maybe this is a conscious decision by company execs wanting to further separate their products from Apple's teeny-bopper looking devices.
But what the Vizio lacks in prettiness it makes up for in its processing speed and sharp image display. I was able to move through different applications pretty quickly, and the internal touch pad made for a smooth navigation experience from window to window.
I was also eager to check out the speakers because laptops, whether Microsoft or Apple, are notorious for their horrible sound. It's almost as if the two companies have improved many of their products' functions, but ignored improving laptops' speakers entirely.
Bob Dylan's "Rolling Stone" seemed to be good place to start to check out both the high and low frequencies of the speakers. There's something about Dylan's interesting whiny voice that serves as a good tester for a laptop's sounds for music or video.
The speakers disappointed though, as they provided the same thin and small musical output that most laptops provide.
The Vizio's key pad was just okay too.
The wide square buttons were big enough, but when pressed, it seemed like my fingers met with resistance, as if the buttons should be allowed to be pressed down further. I would imagine in the long term, it wouldn't make for the most comfortable typing experience.
Sony Vaio E15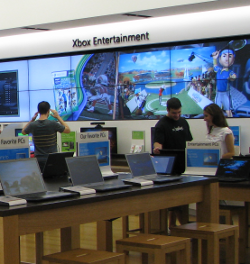 I also checked out the Sony Vaio E15 for $699.
Upon lifting it, I found it to be pretty heavy. For those who tote their laptops to and fro, the six pounds it weighs could be a little labor intensive, especially if you carry the thing in a laptop bag with a shoulder strap.
Have you ever received that painful shoulder-strap skin indentation? It usually happens when the device you're carrying weighs too much. It's not fun at all.
The Sony's display screen was pretty decent too. It's safe to assume that Apple has raised the display-screen bar. The Vaio E15 offered a bright and lively looking picture, with colors that seemed to sort of move off the screen.
Its speed was also noticed, as it seemed to process requests just as fast as the more expensive Vizio. But I didn't care for the small buttons on the Vaio. Just like many small computers with tiny keys, they don't have a lot of "give" or bounce-back when being pressed.
Speaker-wise, the Vaio was better than the $1,249 Vizio. I brought up the same Dylan song, at the same volume, and the sounds were delivered in a more prominent fashion. The loudness and clarity of the speaker sounds were pretty impressive by laptop standards.
As far as the design -- you guessed it -- basic black with no eye-catching qualities. It's a bit puzzling why Microsoft laptops remain so bland looking.
Acer Aspire V3
Next was the Acer Aspire V3, for $499. The laptop didn't feel either compact or light-weight at 5.7 pounds. Again, score one for Apple laptops that seem to all be pretty light and easy to carry.
The small keys seemed like they wouldn't be too kind to the fingers after a while, and the plain black design provided no eye-candy at all, unless you like licorice.
The display wasn't bad but nothing to write to mom about. The images were bold enough for everyday use, but compared to other machines around it, the contrast was very noticeable.
The Aspire also comes with a 4.5-hour battery life, which isn't too long with some batteries going eight hours or more these days. The speakers were also just average, similar to the speakers I tried on the Vizio CT15.
Samsung Series 7 Tablet
If you're one of the many consumers who are choosing tablets over laptops these days, The Samsung Series 7 Tablet PC for $1,299 might be the one for you. A cool touch screen is always nice to use, as users can bounce back and forth between applications with seamless ease.
It also brings up a virtual keyboard that's pretty small in size, but you can adjust the wideness by dragging the corners of the keyboard with your finger.
For those who prefer an actual keyboard you can purchase one for $59.99, but the buttons are pretty small and not made for wide fingers. Also, carrying around both tablet and keyboard could be a bit cumbersome for many, but that's obviously a sheer matter of preference.
The overall display screen was great though, and it seemed better and brighter than any of the laptops I tried in the store.
The processing speed of the Samsung tablet was smartphone-fast, and the overall weight of the device was light and easy to carry. A good buy if you prefer tablets over laptops, and if you don't mind the $1,299 price tag.
Microsoft has continued to do a good job of competing with Apple retail stores, in terms of a fun shopping experience with plenty to see and do.
Sure you can buy one of Microsoft's products at many retail locations, but going to the actual store will better allow you to compare them to other store items.
The sales people are quite helpful too, and could possibly give you more in-depth answers than say a person working at a Best Buy or Staples.
And with the new Windows 8 coming out just around the corner, people will be racing to Microsoft stores just to see how it works and compares to Windows 7. The sales person said an official release date or price point hasn't been established yet, but stay tuned.
---