---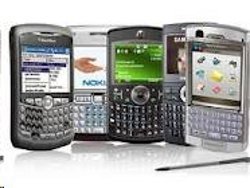 In 2007, when Apple introduced it's first iPhone, the Blackberry was the dominant smartphone. The first Android phone wouldn't come along until a year later.
From that humble start five short years ago, smartphones -- which allow users to access the Internet from their devices using a browser or apps -- have radically changed how consumers access the web. And the trend is accelerating.
New research by Frank N. Magid Associates shows 58 percent of U.S. consumers how have a smartphone and 76 percent of them are under age 44. The introduction of tablet computers in 2010 has contributed to the explosive growth in mobile computing.
Tablet use: zero to 34 percent
In two years time, the percentage of computers using a tablet surged from zero to 34 percent. Apple has introduced three versions of its iPad so far but now faces increasing competition, including from a host of smaller, lower-priced tablets.
As a result, consumers are sending information over the Internet while on the go, not just from their PCs. The Magid study suggests the trend will only grow. It predicts that by mid 2013 the current 99 million smartphone users will increase to 151 million.
The number of consumers using tablets will increase from 51 million to 106 million.
What's drawing consumers to mobility? It's not just to send text messages and check email -- the principal uses when the Blackberry reigned. Now, Magid researchers says consumers are shifting to the mobile platform to consume a wide array of content including social media, gaming, and video, including full length TV shows and movies.
"There's no such thing as distinct mobile content anymore," said Tom Godfrey, Magid's Executive Director of Mobile Strategy. "What publishers and advertisers have to realize is that most content going forward will be consumed on a mobile device and that it must be accessible and optimized for that platform."
Sizable lead
And because Apple's operating system is exclusive to the popular iPhone, the Android operating system -- available to all manufacturers -- has zoomed ahead of Apple in mobile marketshare. Android leads in the smartphone race 48 to 32 percent. Magid says it is now rapidly overtaking Apple in the tablet market.
The iPad now makes up only 50 percent of the installed tablet base compared with 72 percent in 2011. Among consumers planning to purchase mobile devices in the next 12 months, 51 percent already have a tablet and 75 percent already have a smartphone.
Magid reseachers says that shows consumers aren't content to own aging technology but rather, want to keep up with or ahead of the latest mobile trends.
---