---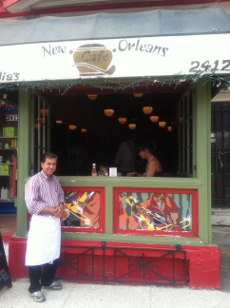 Cafe owner Bardia Ferdowski
Who hasn't used Yelp?
Over the years, the business review website has been quite the useful guide to draw consumers closer to good restaurants and away from bad ones. Currently, there are over 50 million Yelp readers who count on the website to provide honest, fair and insightful reviews, and for the most part Yelp has achieved just that.
But many business owners have claimed their positive reviews have been removed from the site, simply because they chose not to advertise with Yelp. Some have even accused the review site of using its employees to write phony bad reviews, as a way to bully business owners into placing ads on its site.
How does this affect the consumer?
Consumers count on Yelp to select places to go and spend their hard-earned money, and if reviews aren't accurate or trustworthy, the consumer goes into a business or restaurant misinformed about the product or service. Then there's a chance the customer's high expectation of an establishment, based on a good review, will not be met.
Do consumers think Yelp is doing its job? We conducted a computerized sentiment analysis of about 1.4 million postings on social media over the last year and found Yelp with a net sentiment of about 50% positive.
So, just what do consumers like and dislike about Yelp? Well, not surprisingly, they like the fact that it lets them talk about what they like and don't like. They tend to see Yelp as social media, a pipeline that connects them to other consumers without injecting much of its own opinion.
And this, of course, is exactly what most Internet users seem to want -- something that lets them read others' opinions and share their own. Not much thought is given as to the validity, replicability or reliability of those opinions but, hey, it's just lunch we're talking about. No need to make a federal case out of it, right?
Businesses miffed
This is not exactly how businesses look at it. Many small businesses, not to mention dentists, doctors and other sole practitioners, tend to think that no one should ever say anything bad about them. Many even argue with a straight face that no one should be able to use their name without permission. Big business is more able to roll with the punches and, in fact, has some pretty big sociel media guns of its own.
Thus, it is not too surprising that a group of U.S. business owners filed a lawsuit against Yelp Inc. in 2010, accusing the company of bullying them for advertising. That suit didn't go anywhere but Yelp later modified its practices to ensure that it didn't do what it denied ever doing in the first place. Other suits are moving through the legal system, although Yelp has consistently denied any funny business.
"Simply put, Yelp does not remove or hide negative reviews in exchange for money and Yelp salespeople do not offer to do so. Additionally, Yelp treats review content equally for advertisers and non-advertisers alike," said Yelp co-founder and CEO Jeremy Stoppelman.
In the suit, business owners across the country said they received harassing calls from Yelp salespeople offering to remove bad reviews if owners posted advertisements on the company's website. Yelp denied these claims.
Still grumbling
But although the lawsuit didn't go anywhere, business owners are still grumbling. ConsumerAffairs went to Bardia's New Orleans Café, based in the Adams Morgan section of Washington D.C., and spoke with owner Bardia Ferdowski, who said he's been a victim of bullying tactics by Yelp, receiving daily phone calls asking him to advertise with the San Francisco-based company.
"Many years ago when they [Yelp] started and put me on their website, constantly I would get a call from them day and night to come aboard. At first I joined them, but the monthly payments were about $350 a month, and [eventually] I couldn't afford it," he said.
"After that they started taking all the five stars and four stars away and they filtered them, Ferdowski claimed. "When I contacted them about why they're taking off my reviews they said 'it's normal business and it's our policy'. If I didn't join them for advertising, then they took all my stuff [good reviews] out of their website."
The D.C. restaurant owner also spoke of a time when a suspicious-looking customer came in the establishment, and started taking photos. Ferdowski had a notion this was not just an ordinary customer.
"I had a customer who was outside taking pictures, and I asked him if he wanted to come in for tea or coffee. Then he wrote a review and I found out he worked for the same company [Yelp] for advertising."
The Iranian-born, New Orleans-raised Ferdowski said he believes Yelp could be helpful to consumers but he, like many small business owners, thinks the process as it currently works is somehow slanted in favor of businesses that advertise with the site.
Ferdowski has chosen to no longer work with Yelp, or accept its deals or discount coupons, since in his view, the website did more harm than good for his restaurant. He has since taken down the Yelp sign that hangs in the door, and claims his business hasn't suffered any loss.
Something fishy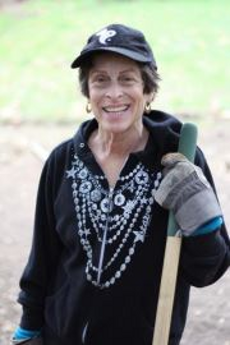 Roxy De Cou (Facebook phto)
It's not just restaurants that get indigestion from Yelp. In Santa Monica, Calif., Roxy De Cou, MSW BCD (Board Certified Diplomate), a successful psychotherapist for nearly three decades, has been complaining loudly that she is the victim of online bullying by someone who was not a patient of hers.
The unknown reviewer, who calls himself "Dr. Acula G" left an overwhelmingly negative review on De Cou's Yelp page in July 2011.
"This single act has resulted in a wipeout of calls from potential clients in a practice that has been stable throughout these past 25+ years," De Cou said in a statement she issued recently. De Cou said that for years she has received an average of 10 inquiries per month from prospective patients but has received only one since "Dr. Acula G" posted his or her review.
"I knew from the moment I read Dr. Acula G's post ... that there was something fishy about this review. I was appalled that someone would want to defame me in front of the entire world. I was certain there was no way this could be a client of mine," said De Cou. "As I looked deeper into the matter I discovered that not only was this person never a client, I was not alone in my plight for he had a track record of online bullying, disguising his true identity through three different online personalities," she continued.
Yelp leaves business owners defenseless from online bullying, De Cou charged. She said she and her associates tried to contact Yelp several times for assistance, to no avail. She finally went public with her complaints, issuing a press release that was picked up by several outlets. 
De Cou's spokesman, Lon Haber, said the only solution Yelp offered was to spend $300 to $1,000 per month advertising on the site. The Yelp salesperson allegedly said that advertising would not necessarily remove bad reviews but could "improve your profile."
The Dr. Acula G. review no longer appears on Yelp. Haber said he didn't know when it had been removed or if it might reappear later. 
Who knows? 
How can the consumer know if a poor -- or, for that matter, effusive -- review they're reading is genuine? 
Good question. The answer is a little elusive. After all, what's genuine? If a consumer rakes a business over the coals because he's having a bad day, that can give a misleading impression. On the other hand, some consumers seem to think anything they do is automatically great, so if they have a po-boy at Bardia's New Orleans Café, it must be a great place. Similarly, if they choose to drive a Prius, it must be because it's the greatest car ever. And don't get us started on Apple users.
Numerous studies have found that consumers expect to see both positive and negative reviews about a business and its products and services. If Yelp or any other site goes too much in one direction, it may be that it is not presenting the whole picture, no matter how much it would like to. Many consumer-oriented sites, like this one, have a preponderance of bad reviews even though many of the trashed products are big sellers. It's long been true, after all, that people will complain a lot more readily than gush with compliments.
In the end, it comes down to the consumer using her or his best judgment. The Internet provides the vehicle for consumers -- and, yes, some imposters and crackpots -- to get their views out in public.  And it's worth remembering that review and consumer sites exist to provide the opportunity for a dialogue between businesses and consumers, not just to help small businesses. 
Really, it's like our political system.  Political candidates can and do say just about anything. It's up to us to listen carefully, do our research and make an informed judgment. 
---