---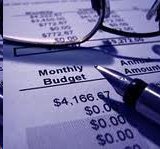 Make no mistake. We're living through an incredibly harsh economic environment. But a new study shows some families cope better than others and it doesn't necessarily have to do with the size of a paycheck.
A report compiled by the Consumer Federation of America (CFA) and Certified Financial Planner Board of Standards, Inc. (CFP Board) shows that those who have prepared a personal financial plan feel more confident and report more success managing money, savings and investments than those who have not.
About 38 percent of the 1,508 household financial decision-makers surveyed said they live paycheck to paycheck, while fewer than one-third indicated they felt comfortable financially and only about one-third think they can afford to retire by age 65. According to several measures of financial well-being, those with a financial plan report faring better than those without one.
The survey found that by a margin of 50 percent to 32 percent, and for all but the lowest income bracket -- people earning less than $25,000 -- where few have a comprehensive plan, planners are more likely to feel they are on pace to meet all of their financial goals, such as saving for retirement or for emergencies.
Across all income brackets planners, by a margin of 52 percent to 30 percent, are more likely to feel "very confident" about managing money, savings and investments. By a 48 percent to 22 percent margin, those who plan are more likely to describe themselves as "living comfortably."
Manage credit cards better
Consumers with a financial plan are also less likely to be buried in credit card debt. Of consumers in the two lowest income brackets, planners with credit cards report being much more likely to pay credit card bills in full each month.
"Our survey clearly shows that having a personal financial plan helps both rich and poor achieve their financial goals," said Stephen Brobeck, CFA's Executive Director. "Having a financial plan increases one's confidence and effectiveness in managing, borrowing and saving money."
However, only 31 percent of respondents said they had a comprehensive financial plan, while about two-thirds -- 65 percent --indicated they follow a plan for at least one of their savings goals.
A financial plan starts with a monthly budget, accounting for all expenses and measuring them against anticipated income. The goal is to have money left over each month -- even a small amount -- that can be saved and invested.
---