---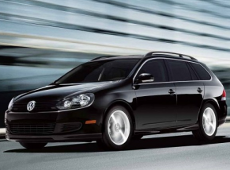 Car marketers know how to get your attention these days. Rather than show attractive models and glamor shots of sleek vehicles speeding around a curvy highway, they flash numbers on the screen - "EPA-Rated 40 MPG."
In an era of high gasoline prices, squeezing more miles out of each gallon of fuel has real appeal and more cars now claim to achieve that magic number of 40 miles to the gallon. But do they really?
Putting claims to the test
Edmunds.com recently tested six cars that make the claim to see how the claim stands up under real world driving conditions. The site tested six vehicles – the Chevrolet Sonic, Hyundai Veloster, Kia Rio 5,Mazda 3i, Ford Focus and Volkswagen Passat TDI.
Just three of the six – the Passat TDI, Mazda 3i and Ford Focus - cleared the EPA's 40 mpg rating in at least one of Edmunds.com's testing routes. But even if high mileage is your most prized option on a new car, Edmunds says that doesn't mean you should disqualify the three cars that didn't achieve the advertised goal.
The difference in yearly fuel costs between the top-performing Passat and lowest performing Kia was only $225, assuming 12,000 miles driven per year.
"Whether a car achieves 35 mpg or that all-hallowed 40 mpg, the difference won't have as much impact on your wallet as you might expect," says Edmunds.com Automobile Editor James Riswick. "The most important takeaway here is that any one of these vehicles would be a tremendous fuel efficiency upgrade if what you're trading in is a 20-mpg gas guzzler."
Litigation
Gas mileage claims have long been a source of contention between carmakers and consumers. A consumer in California took Honda to small claims court and won, contending that Honda misrepresented the gas mileage she would achieve on her Honda Civic hybrid.
In May, a judge overturned the $10,000 damage award. The judge ruled that, even though the plaintiff didn't get close to the EPA's mileage estimate for her car, many other drivers did.
---