---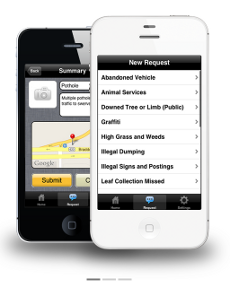 They used to say you can't fight City Hall. Maybe they're right but Minh Tran thinks you should be able to help City Hall do its work more efficiently. Cities like Baltimore, Boston and San Francisco agree with him.
Tran, a Virginia dentist, has developed a smartphone app called Fix 311. It's a quick, simple and inexpensive way for citizens to report problems -- anything from animal control issues to potholes -- to local governments. The app is free to citizens and all cities have to do is agree to accept the incoming information.
Many cities now use the 311 telephone number to take citizen calls but staffing is expensive and there's no easy way to verify the incoming information.
Tran's app solves those problems. It doesn't require any telephone operators and it uses the built-in GPS on iPhones and Androids to report the exact location of any problem needing government attention. Citizens can also use the phone's camera to snap a photo that accompanies that textual report.
New York City's Mayor Bloomberg is interested and Tran said he has an upcoming meeting to present the idea. Washington, D.C., is also interested, he said.
Tran said the idea grew out of a pothole-reporting app he built a few years ago. It was quickly adopted by the Virginia Department of Transportation (VDOT), which promotes it heavily to motorists in the traffic-choked state.
One nation, one app
"My goal is to have the government of the entire United States take this system and use it," Tran said. "Right now, every city is trying to make their own app and it's kind of wasteful of taxpayers' money. Why does every city have to make its own when Fix 311 already works nationwide?"
Tran, who graduated from the Temple University School of Dentistry, practices in Falls Church, Va. Although he makes his liviing drilling teeth, Tran said he worked in network administration before dental school and continues to enjoy writing his own apps and programs.
The dental business being what it is, Tran said he is not trying to get rich with Fix 311 but just wants to provide a way for governments to provide better service to their citizens without wasting huge amounts of money to do so.
His biggest frustration at the moment is that, although his app has won wide acceptance around the country, he hasn't been able to get any interest from Fairfax County, Va., where he lives and works.
"I've sent them letters and emails but no one responds," he said. "I don't know why."
---