---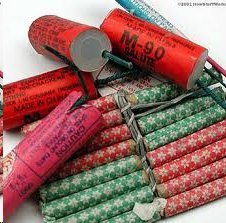 It isn't just setting off fireworks that can be dangerous. Taking them home from the point of purchase can be hazardous, too.
With the Fourth of July just around the corner, the U.S. Department of Transportation wants to help you prevent unnecessary accidents and fatalities due to the unsafe transport of fireworks.
"Fireworks on the Fourth of July are an American tradition," said U.S. Transportation Secretary Ray LaHood. "We want to make sure the traveling public and commercial operators know how to safely transport fireworks so we can all enjoy these colorful displays, both small and large."
Commercial transport
The department's Federal Motor Carrier Safety Administration (FMCSA) is conducting a nationwide roadside inspection sweep to ensure that commercial motor vehicles transporting fireworks categorized as Class 1 Explosives are operating in full compliance with federal and state safety standards.
FMCSA inspectors, in partnership with the Commercial Vehicle Safety Alliance and state law enforcement, will examine the driver, vehicle and hazardous materials loads. They will take into account safety permits, shipping papers, placards, load securement, packaging, marking, labels, and all other requirements for the transportation of fireworks categorized as Class 1 Explosives.
In addition, the department's Pipeline and Hazardous Materials Safety Administration (PHMSA) and Federal Aviation Administration (FAA) have issued safety information for consumers and commercial operators about how to safely handle and transport fireworks.
PHMSA's safety alert covers the transport of consumer fireworks, which are explosives covered by the Hazardous Materials Regulations.
The alerts
The safety alert outlines the requirements for these explosives, which must be labeled and packaged properly. PHMSA also provides the following resources about transporting fireworks and hazardous materials:
Because of the tremendous fire risk they pose to aircraft both in the air and on the ground, the FAA is reminding the traveling public that fireworks of any kind, including sparklers, are prohibited aboard aircraft. This includes both carry-on and checked bags.
---