---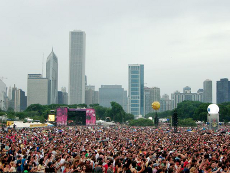 Lollapalooza
Autumn is certainly a beautiful time of year. The tree tops host a spectacular array of rustic colors, and down on the ground people get excited for seasonal pleasures like cooler temperatures and fall football.
But wait, not so fast. It's only the end of July, right? And there are still plenty of warm midnights and summer sunsets to bask in.
It's also still the summer concert-going season, and it's not too late to take in your favorite artists or just wander around the grounds and soak up the music and scattered sunshine.
In 2012, there are many ways one can have a great music festival experience. Of course the traditional way is heading to a wide open space and attending a marathon concert that has 70 bands and a 1960ish feeling of social freedom.
Then there are the more laid-back, lawn-chair-friendly concerts, where a large blanket and an ice cooler will serve you better than a concert glowstick or finding a good place to mosh.
And today's digital age wouldn't be quite so digital if there weren't some sort of Internet component to concert going. If one would rather watch Barry Manilow sing "Mandy" live within the comforts of their living room computer they can do that quite easily these days.
So before all of this year's summer music festivals are gone, we'll highlight some of the best outdoor concerts, the quieter less-crowded music festivals, and some of the top concerts that are being streamed online.
Lollapalooza
A concert list wouldn't be a concert list without starting it with Lollapalooza. The Chicago festival has made itself sort of the granddaddy of the outside music gatherings.
Starting in 1990, and spearheaded by Jane's Addiction's front man Perry Farrell, Lollapalooza has been considered the go-to concert for both diehard and casual music fans alike.
Although tickets on the website have been sold out for the Aug. 3 through Aug. 5 concert, those still interested may have better luck at sites like StubHub, or Ticketsnow.com.
I called Ticketnow, and was told those interested can still get general admission tickets for $125.00. You won't be able to purchase a seat for any of the days, but you'll still be able to walk around and listen to over 100 bands that will be playing at this year's concert.
You'll be able to see everyone from recent Rock and Roll Hall of Fame inductees the Red Hot Chili Peppers, to Atlanta rapper B.O.B.
KahBang Festival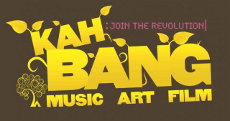 This music festival in Maine is the state's biggest, and has activities that include film, food, art and outdoor team sports like adult kickball. There's even a "Brew Fest" within the concert.
In the four-day festival starting Aug. 9 and ending Aug. 12, music lovers can see the Deftones, indie rockers Now, Now and electronic and dubstep artist Lorin Ashton.
Tickets start at $35 for a one-day pass, up to $105 for a camping pass. Guests can spend the night on festival grounds if they rather not commute from their home or local hotel.
Also, those looking for a break from the loud music can check out KahBang's Film Festival that's playing alongside the concert at the Film Tent at the Waterfront Festival grounds. Entertainment lovers will get plenty of bang for their buck at Kahbang this summer.
Long Beach Jazz Festival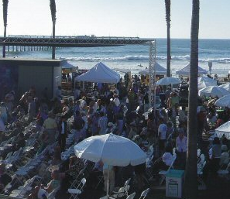 Long Beach Jazz
On the opposite side of the continent, Jazz lovers can see some of the day's top Jazz artists at the Long Beach Jazz Festival. Its organizers say the festival is the only Southern California jazz festival that's nestled within a grassy knoll in a lagoon type setting. Sounds awfully nice doesn't it?
Being held in Long Beach's Rainbow Lagoon park, which also hosts a series of crawfish festivals, guests can enjoy the tunes of Dianne Reeves, Poncho Sanchez, and the legendary Ronald Iseley & The Isley Brothers. Where do they find crawfish in California? Don't ask.
The festival is from Aug. 10 to 12, and tickets range from general admission prices of $50, to $185 for VIP access which includes dinner and wine.
Lake George Music Festival
For those who love classical music this festival is supposed to be extremely top rate, as it's six days long and will showcase classical performers from all over the world, including performances from the Czech Philharmonic Orchestra, the Julliard School and the Yale School of music.
From Aug. 17 to Aug. 23, the festival is the only live indoor concert being featured in this story, with each performance being at St. James Episcopal Church, in Lake George Village, N.Y. Both admission and parking are free.
Austin City Limits (ACL)
When it comes to streaming a concert, Austin City Limits is a darn good concert to stream, which is why both YouTube and Dell are showing the concert in almost real time.
The way it works is by concert cameras capturing footage, then quickly transferring and uploading the images to multiple simultaneous YouTube channels.
The Austin, Texas, concert boasts a line-up of Neil Young, The White Stripe's Jack White, and the Black Keys. Tickets to attend the concert have been sold out for quite some time, which might make streaming this particular festival your only option at this point, unless you do an aggressive search for last minute tickets.
Those interested in streaming the festival should keep checking ACL's YouTube channel for updates.
Tomorrowland Festival
Let's just say you're not able to spontaneously purchase a plane ticket to Belgium within the next few days, you can view the TomorrowLand festival right at home.
Since 2005 this dance music concert is considered one of the biggest DJ events in the world, and this year you can catch Fatboy Slim, International DJ's Bloody Beetroots, and disc jockey duo Rebecca & Fiona, by streaming the concert from your home computer or mobile device.
The concert will play live on July 27 through July 29, and to stream Tomorrowland, viewers should simply go to Youtube.com/tomorrowland for more info.
---