---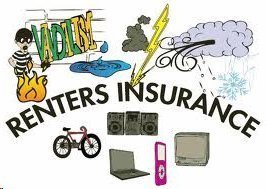 If you own a home with a mortgage, the lender requires you to have a homeowners insurance policy. While some landlords require tenants to take out renters insurance, most don't.
Should you have renters insurance? It depends. In some cases it could provide protection and peace of mind at a fairly reasonable cost. The average renters insurance policy cost only $184 per year in 2009, ccording to the National Association of Insurance Commissioners.
But according to the Insurance Information Institute(III) only 31 percent of renters buy renters insurance, according to an survey conducted in May, 2012.
Assess your needs
For those considering renters insurance, a good place to start is a needs assessment, comparing that to what a policy actually covers.
"Renters insurance provides financial protection against the loss or destruction of your possessions when you rent a house or apartment," said Jeanne M. Salvatore, III's senior vice president for Public Affairs. "While your landlord may be sympathetic if you experience a burglary or a fire, your possessions are not covered by your landlord's insurance."
Under most renters insurance policies your belongings are covered against losses from fire or smoke, lightning, vandalism, theft, explosion, windstorm and water damage, not including floods. But if your upstairs neighbor's bathtub overflows, ruining items in your apartment, you're covered.
Another argument for renters insurance is its liability coverage. Just as a homeowners policy protects the homeowner from damages when someone is injured, renters insurance covers your responsibility to other people injured at your home or elsewhere by you, a family member or your pet and pays legal defense costs if you are taken to court.
Additional living expenses
Most policies cover your additional living expenses (ALE) if you are unable to live in your home because of a fire or other covered peril. ALE pays for hotel bills, temporary rentals, restaurant meals and other expenses you incur while your home is being repaired or rebuilt. However, not all coverage is the same and there are limits.
Probably the biggest consideration in deciding on renters insurance is risk. What do you have to lose?
For example, if you're a college student with limited possessions, protecting those possessions may be less critical than if you are a professional with nice furniture, a big screen TV and an extensive wardrobe.
If you have expensive jewelry, furs, sports or musical equipment, or collectibles, the need for insurance is obviously greater. But keep in mind you may have to add what's called a "floater" to your policy to cover these items.
Most standard renters policies offer only a limited dollar amount for items of extra value. A floater is a separate policy that provides additional insurance for your valuables and even covers them if they are accidentally lost.
---