---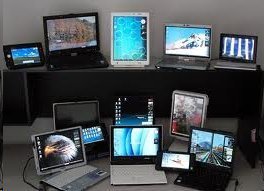 When Apple introduced its iPad tablet computer, it set the entry-level price right at $500. For Apple and the competitors who followed with tablets of their own, that price has remained firm.
But there is now an entire subset of smaller tablets that sell for much less. While the iPad has a nine-inch display, the lower-priced competitors have seven-inch screens. Some consumers, in fact, prefer the smaller size since it can be easily gripped in one hand.
The popularity of these seven-inch devices was aptly demonstrated last week when online and brick-and-mortar retailers quickly sold out of the new Google Nexus 7 tablet, which starts at $199.
As the holidays approach some electronics industry analysts think tablets will be the "hot toy" for children this year. For parents on a budget, the seven-inch variety is an attractive alternative to the pricier nine-inch models.
Here then are some seven-inch tablets to consider:
Google Nexus 7
Assuming you can get your hands on one, the Google Nexus 7 seems to be the hot tablet in the class of 2012. The Nexus 7 wins high praise for its screen clarity, speedy performance and cool media options. The 8GB version is $199 with a 16GB version for $249.
Samsung Galaxy Tab 2
Samsung is no stranger to mobile devices, with a full range of smartphones and tablets. Its Galaxy Tab 2 offers a lot of things other smaller tablets don't. It's pluses include front and back cameras, the ability to add memory and a TV remote function. The 8GB version retails for $250.
Amazon Kindle Fire
Amazon had been making grayscale e-readers as part of its retail book operations for a couple of years when it jazzed up its line, offering the full-color Kindle Fire. If you are already an Amazon customer then this device will make it easier to purchase and use Amazon content. Unlike many of the other devices it's limited to Wi-Fi connections and lacks some other tablet features like cameras. It's limited to 8GB of storage but, at $199, many consumers still find it attractive.
Barns and Noble Nook
The Nook is another e-reader that evolved into a tablet. The latest Nook wins praise for its screen clarity and offers 16 GB of storage. While ideal for downloading and reading books, the device also has an excellent video display for watching movies. It, too, lacks some tablet features like cameras and, at $240, costs a little more than the Kindle Fire.
Blackberry Playbook
The Blackberry Playbook started off costing as much as an iPad when it was introduced last year but has quickly come down in price. In fact, it's price tag may now be one of the more compelling arguments for it. Initially designed for business use it now finds a consumer audience willing to consider it for its $200 price tag for the 16GB version. Many in the industry saw the Playbook as another of RIMs series of missteps last year as it tried to adapt to the new mobile universe. However, at the lower price the Playbook offers enough apps and capability to make it worth consideration.
Economy tablets
For especially price-conscious tablet shoppers, there are a growing number of tablets being offered well below the $199 price point. These generally have less memory and features but may provide all the tablet that needed. They might especially be appropriate for a child's first tablet.
Sylvania Mini Tablet
The device, with 256MB Ram and up to 4GB Flash, comes out of the box with features to let you download and read books, watch movies and play music. Because it runs the Android operating system there are plenty of apps to choose from. The suggested retail prices is $199 but some online retailers sell it for as low as $76.
Archos 4GB Arnova 7 G2
This device runs the Android 2.3 Gingerbread operating system and is powered by a 1 GHz processor. It also has full video capability and access to a wide range of games. It sells for around $105.
Coby Kyros MID7022-4G
Another Android-powered device with a 1 GHz processor. Works well for video, music and games. Offers many tablet features such as front and back cameras and microphone. Retails for around $105.
Game changer?
If you are planning a tablet purchase for the holidays, it might be wise to wait until October before making a purchase. The Apple rumor mill has been busy with suggestions that Apple will change the landscape later this year by introducing its own seven-inch version of the iPad.
Some discount this theory since the late Steve Jobs was adamantly opposed to the idea when he was running the company. However, a low-priced iPad would certainly be something for consumers to consider and might force competitors' prices even lower.
---