---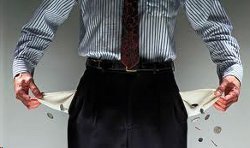 If it feels like you are falling behind in this economy, maybe you are. A retail expert says the American consumer is getting poorer.
"The American consumer is going to continue to get poorer," Howard Davidowitz, chairman of Davidowitz & Associates, said in an interview with Yahoo! Finance's Daily Ticker. "They're going to shop at the places that are cheapest. This is not rocket science."
Davidowitz was reacting to the report that retail sales had fallen in June for the third month in a row. The U.S. Commerce Department reported that consumer spending was down 0.5 percent after sales fell 0.2 percent in May.
Pretty ugly
"If your net worth is down 40 percent, if your income is down 10 percent over the last few years, if you're in the worst housing crisis since the Great Depression, the jobs numbers are terrible, that shows where the consumer is," Davidowitz said in the interview.
Davidowitz said growing consumer poverty is most visible in the food business. He said traditional grocery chains are losing marketshare, not only to Walmart, but also non-traditional food sellers like Dollar General, Dollar Tree and Family Dollar.
In January the Federal Reserve reported that in 2010, the median value of income for the average American between 2007 and 2010 fell 7.7 percent while median net worth plunged more than 38 percent.
Consumers take the hit
Consumers in the workforce saw their wealth drop the most.
"Most noticeably, median incomes moved higher for retirees and other nonworking families," the report said. "The decline in median income was most pronounced among more highly educated families, families headed by persons aged less than 55, and families living in the South and West regions."
---