---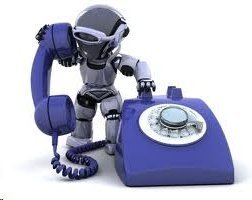 Few things are as annoying as those recorded "robocalls" -- especially if your just sitting down to dinner. But what should you do when you get one?
The Federal Trade Commission (FTC) has issued tips for consumers, as well as two new consumer education videos explaining robocalls and describing what to do when you get one. The agency also is hosting a robocall summit later this year to develop new strategies to stop illegal robocalls.
"The FTC hears from American consumers every day about illegal robocalls and how intrusive they are," said FTC Chairman Jon Leibowitz. "We're ratcheting up our efforts to stop this invasion of consumers' privacy."
Consumer videos
The agency's two new consumer videos, "Robocalls Gone Wrong," and "What To Do if You Get a Robocall," are located on a new FTC robocalls Web page, which has more information about robocalls and what the FTC is doing to protect consumers.
Nearly all telemarketing robocalls have been illegal since September 1, 2009. The only legal sales robocalls are those that consumers have stated in writing that they want to receive. Certain other types of robocalls, such as political calls, survey calls, and charitable calls remain legal, and are not covered by the 2009 ban.
To date, the FTC has brought 85 enforcement cases targeting illegal robocalls, and violators have paid $41 million in penalties. Indeed, since January 2010, the Federal Trade Commission has brought law enforcement actions, shutting down the companies responsible for more than 2.6 billion illegal telemarketing robocalls.
FTC's Robocall Summit
The FTC will host a summit on October 18, 2012, in Washington, DC, to examine the issues surrounding the robocall problem. The summit will be open to the public, and include members of law enforcement, the telemarketing and telecommunications industry, consumer groups, and other stakeholders. It will focus on exploring innovations that could potentially be used to trace robocalls, prevent wrongdoers from faking caller ID data, and stop illegal calls.
More information about the summit and a draft agenda will be available soon.
---