---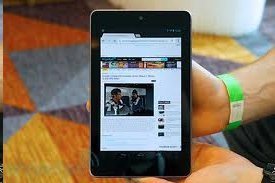 Want to buy a Nexus 7, Google's new seven-inch tablet? Take a number. Retailers and mail order sites say they are mostly sold out.
GameStop reports on its Website the 16GB version of the tablet is backordered and the company "cannot predict the actual delivery time for this item." B&H, another online retailer, said orders will be filled in the order they are received.
Brick and mortar stores say they are running through shipments just as fast as they are received.
The Nexus 7 has been on the market for less than a month. It runs on Google's Android operating system and features a quad-core processor. But the one feature driving the demand could be the price.
The 8GB version of the tablet sells for $199, the same price as Amazon's Kindle Fire. A 16GB version is available for $249.
The entry level iPad, meanwhile, starts at $499 for the Wi-Fi version. Apple is said to be working on a smaller, cheaper version of the iPad that could be released before the holidays.
Google units pre-ordered by consumers are on their way to them. Orders placed after July 11, the company said, will ship next week.
---