---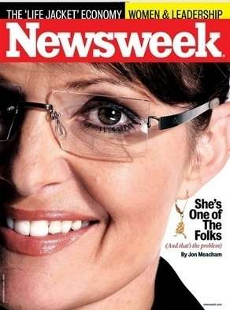 Like most other publications that have been "saved," Newsweek may be in danger of relapse. Reports today say it will soon end its 79-year run as a printed newsweekly, ascending into the cloud in hopes of living happily ever after.
For most of its life, Newsweek was a doted-upon child of the Washington Post Company. It wasn't very profitable but no one much cared back in the day when newspapers printed money even faster than newsprint.
But a few years ago, as the Post's cookie jar began emptying at an alarming rate, Newsweek was cast off for the humiliating price of $1 to Sidney Harman, a fabulously wealthy stereo magnate, Congressional spouse and, one assumes, avid reader.
Harman merged Newsweek into the Daily Beast Co., owned by Interactive Media Corp. (IAC). Harman died not long afterwards, in April 2011, and now the Harman trust says it doesn't intend to keep putting money into Newsweek.
That leaves IAC Chairman Barry Diller at the helm. He didn't get to be a media kingpin by funding losing ventures forever and he reportedly made that clear during a a quarterly earnings call this week, saying the transition to online from print "will take place," according to Advertising Age magazine.
IAC makes most of its revenue from the Match.com and Ask.com websites. "Content" sites like Newsweek and The Daily Beast? Well, like doted-upon children, they're nice to have around but they don't contribute much to paying the rent.
---