---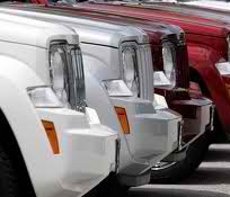 If you waited until July to negotiate the price of a new car or truck, you may find dealers have fewer incentives, in the form of rebates and financing, to sweeten the deal.
Most automakers had a terrific sales month in June, with more than one reporting record sales. Automotive site Edmunds.com reports incentives from dealers and manufacturers averaged $2,187 per vehicle, down 1.6 percent from May.
"If you waited to buy a new car this month, it would have been very difficult to find better deals than you could have found in May," said Edmunds.com Senior Analyst Jessica Caldwell.
With the industry as a whole recording robust sales in June, it's likely there will be even fewer incentives on new vehicles this month. But then again, that's not a certainty. The calendar is working in the car buyer's favor.
"As more 2013 model year vehicles hit dealer lots this summer, car buyers can start to expect better deals on the 2012 models that needed to be cleared out," Caldwell said.
Consumers willing to buy a new 2012 model instead of a 2013 may actually find some attractive deals, if not this month then in August.
Advice for first-time car buyers
If you're shopping for your first new car, it can often be an overwhelming experience. Consumers are so focused on style, color, features and financing they often forget to ask for incentives.
Automotive data firm Kelly Blue Book says there are five keys to making a good decision and getting the best deal on your first new car:
Be logical. Don't get swept away by style and sex appeal. If you are looking for an economical-to-own vehicle to get you back and forth to work or school, there are more practical choices that should suit you -- and your checkbook -- better.
Do your homework before hitting the showroom. Research all the models you're considering. Remember, buying the wrong car is a bigger mistake than paying too much for it. Take advantage of the research material provided by both Kelly and Edmunds.
Line up your financing ahead of time. You best option is to visit your bank or credit union and get pre-approved. That way you don't have to accept whatever financing the dealer offers. This is also once sure way to avoid so-called yo-yo financing, where the dealer approves you for a loan and lets you drive away, only to call you back days later and tell you the final loan wasn't approved.
Focus on the total cost, not the monthly payment. Sure, you have to be able to make the payment from your monthly budget. Also, avoid stringing out the financing for extra years in order to reduce the monthly payment. Better to bite the bullet and pay over a shorter period but a higher payment.
Finally, don't be afraid to walk. Sales people will make you think that you have to make a decision immediately and, truthfully, it's in their best interest if you do. Don't make a buying decision is you feel pressured and until you are ready.
---