---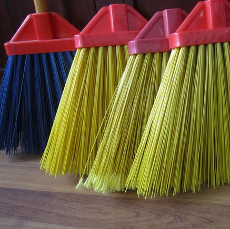 Some household chores can be put off for a short while.
Pulling out the last bit of clean clothes to delay laundry another few days is normal, or letting the hedges grow another week before clipping them won't do too much harm.
However, when it comes to cleaning your house or apartment, a consistent and steady attack is the only way to keep your home clean and free of dust and grime. But sometimes a steady cleaning attack isn't possible.
With people being pulled in multiple directions between jobs and families, it's easy for the household cleaning chores to be delayed or put off altogether.
So many consumers use maid services, cleaning companies and new cleaning appliances, to help keep the dirt and clutter at bay.
As with other consumer products and services, maid services don't always work out too well. Take Merry Maids for example. It's owned by ServiceMaster, which also owns TruGreen, American Home Shield and Terminix.
Poor results
Up in Wasilla, Alaska, a reader who calls herself "S" (but probably isn't that "S") complains that her home hasn't yet been 100 percent cleaned after using Merry Maids six times.
"Nothing was done correctly," "S" said. "They have sent two people for 2 hours and they still couldn't get my house cleaned. Then there were three people for 2 hours. Still not right. Floor around toilet not cleaned. Inside toilet not cleaned. Bathtub and sink not cleaned; half of kitchen done; half dusting in living room done. Carpet still had dirt all over it."
Suzy of California also encountered problems: "Large framed puzzle had pieces knocked out and lost, so I had to throw it away after having it for 20-plus years."
The second time Suzy used the company, something else was also damaged and it never got repaired or paid for. "I came home to one of the set of three shower doors off the track. The cleaners either didn't see it or couldn't fix it," she said.
Suzy called Merry Maids but nothing was done, so ConsumerAffairs placed a call to the company, but the corporate office in Tennessee failed to return calls and didn't comment.
However we did reach a local branch of Merry Maids located in Gaithersburg, Md., and spoke to employee rep Katie about how easy it is for a dissatisfied customer to have their home re-cleaned.
"If you have ongoing service with us we come back the next day and clean any missed areas in the home. If it's a one-time cleaning we create a service report of the rooms, and the specific details to pay attention to before the clean. Then we come back as soon as possible. If the areas that you chose to have cleaned aren't done right, we'll come back until you're happy," she said.
On the Merry Maids website, it indicates the company has liability coverage for items it damages, but since each location is independently owned and operated, it's important that consumers learn how to file an insurance claim through their local Merry Maids office if something is broken, as protocols may differ from office to office.
Some dissatisfied customers have claimed they received yet another poor cleaning when Merry Maids returned to redo the job.
Though the company's website guarantees that cleaners will return to your home if you call within one business day of your initial cleaning, some consumer comments suggest there may have to be a bit of toil on the part of the customer to get this promise honored.
Sometimes the problem isn't breakage but theft, consumers claim.
"Merry Maids employee (s) in Conyers, Ga. location performed a very poor home cleaning job; however they cleaned us out of prescription medicine," said Jerry of Conyers. "I called the local office. The manager said owner was out of the country. When I described the problem, she said 'Do what you have to do' and did not call back with a solution. I am awaiting a phone. I filed a police report on missing meds."
The Conyers Merry Maids office failed to return our calls seeking comment.
DIY
There are those who choose to avoid maid companies altogether, and decide to purchase an upgraded cleaning appliance or a more powerful vacuum cleaner instead.
Kirby Vacuum Cleaners have been around forever but haven't done much to improve their popularity rating.
Complaints about the vacuum stem from it being cumbersome and heavy to push, to salespeople making consumers feel pressured or uncomfortable when the company's in-home sales people come to call.
As with Merry Maids, Kirby has independent distributors who provide service, making it difficult to know what to expect.
Steve of Michigan had a horrific experience with a Kirby salesperson. Not only did the salesperson refuse to leave when asked, but made inappropriate comments towards Steve's wife.
"He starts addressing my wife instead of me, stepping in between me and my wife. He keeps this up and refuses to leave until I start cussing him out, then he walks to the door and starts making a pass at my wife. At this point, I picked up the phone and called 911 because he's telling me to come outside so he can start a fight with me! I will never ever buy a Kirby," Steve vowed.
Another consumer, Michelle, experienced both a poor user demonstration and an unusable vacuum cleaner.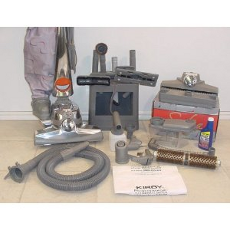 "They came in late at night, brought family members with them, laid all over couches and left little circles of dirt," Michelle said in our phone interview about the sales team. "I have a table that seats eight, and they left dust circles under it and all over my house. They say they used good cleaning stuff [in the demo] but we don't know if that's the same stuff they sell."
Concerning the vacuum cleaner itself, which Michelle eventually bought from the salesperson, she said it was way too pricey and functioned like an old outdated appliance.
"When I signed the papers, I didn't realize that I was paying $3,000. I'm livid because I could have bought the Dyson Ball. It would have been lighter. I haven't used it (The Kirby Vacuum), because it's too heavy, doesn't go around corners and looks like it's from the 1950's. It's not sleek," she said.
Michelle also said after using the Kirby and not being satisfied with its weight and movement, she still made the first payment so not to damage her credit. But when she decided to return the vacuum, the company couldn't be reached.
"I made my first payment, because I don't want it going on my credit. I didn't make the second payment because I couldn't get in touch with them. Then they call, and they lowered my credit score. Even though I made two more payments I'm still on Equifax."
After contacting Kirby about its return policies I was referred to the company's website by an employee rep, which states: "The Kirby Company requires its independent distributors to adhere to any county, state or local laws or regulation pertaining to consumers' cancellation rights."
Not very specific, is it?
Michelle also stated the Kirby demonstration wasn't much help on how to use the vacuum, because the salespeople moved extremely fast and didn't properly show her how to remove and change the parts.
"They took it apart very fast, but didn't show me how to use it. You have to know how to take everything apart to make it work under your couches."
Although Michelle didn't have a problem with the actual sales team, they still left a bunch of dirt rings on her floor after the demo was complete, she said.
"The people were nice, not to say anything about their personalities, but they should clean up your house instead of leaving those little dust things," she stated.
---