---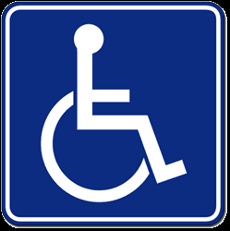 It's taking an incredibly long time for retail stores and even medical offices to remember that not everyone is standing up when they reach the cash register or check-out desk.
A class action lawsuit filed against Walmart in federal district court in San Francisco today says that oversight amounts to unlawful discrimination against the disabled.
Lawyers filing the suit say it's the first of its kind in the country. It was is filed nearly 22 years to the day after the passage of the Americans with Disabilities Act (ADA), the country's landmark law guaranteeing people with disabilities the equal opportunity to participate in all aspects of society and the economy, including shopping with dignity and respect.
The Center for Independent Living, Inc., a disability service organization based in Berkeley, California, and two individuals with mobility disabilities, filed the case to address what they say is a widespread problem that impacts core concerns for wheelchair and scooter users, such as independence and privacy, at point-of-sale terminals.
Feel unsafe
One of the plaintiffs is Janet Brown, a wheelchair user and resident of Pittsburgh, California.
"I feel unsafe when I check out at Walmart. I can't reach the payment device on my own, read the display screen, enter my PIN or sign the screen to complete the transaction. I have to share my private PIN with the cashier, which I hate to do," said Ms. Brown.
"It is offensive to me and every citizen who uses a mobility device that more than 20 years after the Americans with Disabilities Act, we continue to be shut out and denied equal access to basic retail services," said Yomi Wrong, Executive Director of the Center for Independent Living Inc.
"People with disabilities shop. This is not news. But Walmart, which purports to be America's go-to place to 'save money and live better,' apparently doesn't believe that dignity, respect and equal access for people who use wheelchairs and scooters are important core values," Wrong said.
Stubborn refusal
"Walmart's stubborn refusal to meet its customers' needs and provide point-of-sale terminals that consumers with disabilities can use independently goes directly against the central purpose and underlying intent of the ADA," said attorney Kevin Knestrick of Disability Rights Advocates, representing the plaintiffs.
"Point-of-sale machines are the wave of the future in American retail. They should be accessible, convenient and secure to use for all customers. Walmart should be an industry leader, not a defender of discrimination," said Bill Lann Lee, another plaintiffs' attorney.
Disability organizations and consumers with disabilities have alerted Walmart to these issues for years, but Walmart refuses to make the changes necessary to ensure its point-of-sale machines are readily accessible and usable by individuals with disabilities, as required by the ADA, the plaintiffs charge.
"In addition to causing humiliation and physical discomfort as the price of doing business, Walmart is putting an already vulnerable population for identity theft at further risk by making wheelchair users announce their PIN in a public check-out line," said attorney Arlene Mayerson.
In California alone, there are over 300,000 people who use wheelchairs and scooters, numbers that are expected to increase substantially over the coming decade, the plaintiffs noted.
---