---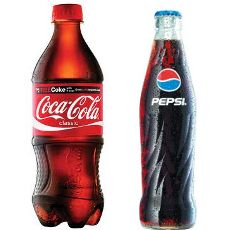 ConsumerAffairs recently covered a story about cereal companies, and how millions are spent on advertising to get kids hooked on sugary products. Although percentages on childhood obesity in the U.S. continue to swell, both cereal and candy companies continue to invent new ways to lure young consumer.
In the past companies would just use TV commercials, or maybe place a comic book ad to promote to young children, but no longer.
Advertising methods to secure young consumers have become extremely advanced, and companies are sparing no creative expense to get the job done.
Take Coca-Cola for example. The company just created a nifty little app for smartphones that allows users to kick a soccer ball by using animated characters. The app can be downloaded for free from Apple's App Store, and it does a good job of keeping younger consumers abreast of Coke's sugary products.
Just like cereal companies building websites to attract young consumers, Coca-Cola also uses the old tactic of meeting kids directly where their passions lie.
The marketing logic is: If companies can appear like they really respect and care about youth subculture, it'll be easier to draw younger consumers in.
The Crab and the Penguin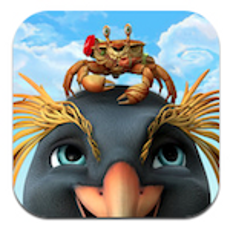 Coke's "The Crab and Penguin App" is another sign of a company spending dollars to hook kids on sugar despite childhood obesity issues. But of course the soda giants aren't alone in this tactic.
We've all seen those SunnyD commercials, where the sweaty kids run in front of the fridge, completely baffled about which beverage to drink. The kids utter that corny and now infamous line: "Okay, we got soda, purple stuff and SunnyD… SunnyD, yeah that's it," they all decide.
Actually, SunnyD was the wrong choice, because it has about the same amount of sugar as soda, though the company markets it as a better option.
Just a 16-ounce container of the yellow concoction has a whopping 15 teaspoons of sugar, plus the added artificial sweeteners. To put it into better perspective, imagine your child downing 15 consecutive teaspoons of sugar, then washing it down with a bit of modified cornstarch and gums, which are also in the strange beverage.
And of course SunnyD has a video game that keeps children in-the-know about its sugary products.
SunnyD's website is equipped with an interactive game that allows users to create drumbeats by hitting several little multicolored drum pads. This is also an attempt by the company to attach its brand to the lifestyles of younger consumers, regardless of health repercussions associated with kids consuming too much sugar.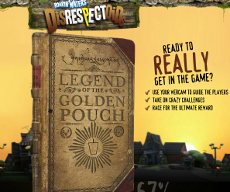 Capri Sun, the cute and harmless-looking juice pouch, also does a good job of using cartoon characters and video games to market to kids. The company's website has a game called "The Legend of The Golden Pouch," where two teams compete against each other to find, you guessed it, the golden pouch.
A six-ounce serving of Capri Sun has 18 grams of sugar, which is a hefty amount of sweetness for a portion that small. Kids also drink these tiny juice bags by the twos and threes, stacking sugar upon more sugar.
One might say, "Hey, I was exposed to junk food and soda commercials when I was a kid and I'm fine." Yes, but did you have access to them 24-hours a day, seven days a week?
Cable cartoon networks offer around-the-clock programming, along with around-the-clock-children advertising. Kids also have access to smartphones and the Internet during the day, exposing them to hours and hours of tempting products. What's worse is that most kids aren't aware of the impact.
A report released by the Center For Science In The Public Interest, showed that "until the age of about 8-years old children are unable to understand the persuasive intent of advertisements."
Since Coca-Cola is a company that already has tremendous influence over consumers, it has the potential to take kid advertising to unprecedented levels, especially through apps and video games.
Spotify finds it sweet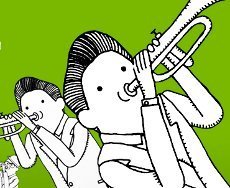 Coca-Cola is also partnering with other young cool brands to make sure it stays relevant and youthful.
In 2011, Coke announced it's partnering with the digital music site Spotify to release a musical app, a Facebook component, and an extended marketing campaign. This further allows the soda brand to maintain its cultural relevance, specifically among young consumers who combine their hobbies and passions into their buying decisions.
The partnership between Spotify and Coca-Cola isn't a short-term one, as the two companies hope to keep younger shoppers engaged through music and technology for a long period of time.
"This is the beginning of something we both feel will be incredibly long-term," said Spotify founder Daniel Ek to Billboard magazine.
His statement further confirms that part of a company's marketing goal is to establish a strong presence early on in the child's lifetime. This is to both maximize buying potential through a young consumer's life, and also capture them while they're still unsure and impressionable.
In 2008, The International Council of Beverages Association created a set of marketing rules for soda companies to follow voluntarily. The guidelines dealt with how brands should responsibly market products to children.
Voluntary agreement
Both Coke and Pepsi agreed to abide by the standards, saying they would no longer market carbonated beverages and other unhealthy products to children under 12 years of age. But don't kids 12 and under use computers? Don't they have smartphones? Of course they do.
A 2010 study conducted by the Kaiser Family Foundation showed that young students spend 7 1/2 hours a day looking at a television, computer, smartphone, or other kind of electronic device. Eight year olds were also included in that study, as it's widely known that children are becoming more and more device savvy every day.
A separate 2009 report released by child and technology experts, the Joan Ganz Cooney Center at Sesame Workshop, showed that 60 percent of the best-selling apps on iTunes are designed for younger children.
Coke's promise of not marketing to 12-year-olds turned out to be a flimsy one, as the company had to expect that young children play video games and also have access to smartphones. But cleverly, the company created a convenient loophole for itself.
The main part of Coca Cola's promise was not to promote its unhealthy products to audiences that were chiefly made up of children 12-years or younger. As long as it didn't promote items during child programing for example, Coke and Pepsi would technically be keeping its word.
Coke's Crab and Penguin App, with its animal cartoon characters, are perfect for the 12-year old's level of interest. Kids younger than 12 could possibly take to the game even more.
PepsiCo is no better, as the company also has apps and video games to associate itself with younger audiences.
A child's best bet to quench their thirst is still water. It's not purple and doesn't have a silly mascot associated with it, but it's still the reigning beverage champion for its simplicity and healthiness.
Water also remains the best way to prevent dehydration, especially for younger kids who never sit still. It rids the body of toxins, as well as the other yucky things children put in their bodies in a given week.
Most importantly, water will decrease a child's dependency on sugary beverages. And that's the biggest win-win of them all.
---