---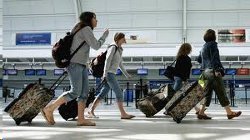 People coming to America with full wallets.
Figures from the U.S. Department of Commerce show international visitors spent an estimated $13.9 billion on travel to, and tourism-related activities within, the United States in May. That's $1 billion, or eight percent, more than what was spent a year earlier.
"The new international spending numbers mark 29 consecutive months of growth in the travel and tourism sector," said Acting U.S. Commerce Secretary Rebecca Blank. "Tourism remains a high-growth bright spot in our economy, and we're on pace for yet another record year."
The recently-released data show that purchases of travel and tourism-related goods and services by international visitors to the United States totaled $10.6 billion during May.
These goods and services include food, lodging, recreation, gifts, entertainment, local transportation in the United States, and other items incidental to foreign travel. Fares received by U.S. carriers from international visitors also increased by more than 8 percent to $3.3 billion for the month.
On a record pace
The U.S. travel and tourism industry is on pace for a record-setting year. International visitors have spent an estimated $68.4 billion thus far in 2012 -- an increase of 12 percent from the same five-month period last year.
U.S residents have also spent nearly $50 billion abroad year to date -- resulting in an $18.4 billion trade surplus for travel and tourism through the first five months of 2012.
The challenge
The Task Force for Travel and Competitiveness created by President Barack Obama last January charges the Secretaries of Commerce and the Interior with developing a National Strategy that lays out concrete steps to be taken in five key areas.
As part of those efforts, Commerce's International Trade Administration is continuing to supply the travel and tourism industry with important data, including international arrivals to the U.S., the forecast of international travel to America for more than 30 countries, and estimates of the total impact of travel and tourism on the economy, among others.
---