---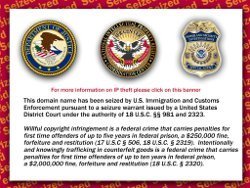 Seventy Websites that were illegally selling counterfeit merchandise have been put out of business.
The U.S. Immigration and Customs Enforcement's (ICE) Homeland Security Investigations (HSI) -led National Intellectual Property Rights Coordination Center (IPR Center) seized the sites as part of Project Copy Cat, an iteration of Operation In Our Sites (IOS).
The bogus sites closely mimicked legitimate Websites selling authentic merchandise and duped consumers into unknowingly buying counterfeit goods. In fact, many of them so closely resembled the legitimate Websites that it would be difficult for even the most discerning consumer to tell the difference.
The Websites are now shut down and their domain names are in the custody of the federal government. Visitors to the sites will find a seizure banner that notifies them that the domain name has been seized by federal authorities and educates them about the federal crime of willful copyright infringement.
"This operation targeted criminals making a buck by trying to trick consumers into believing they were buying name brand products from legitimate websites when in fact they were buying counterfeits from illegal but sophisticated imposter sites located overseas," said ICE Director John Morton. "The imposter sites were simply a fraud from start to finish and served no purpose other than to defraud and dupe unwary shoppers."
New twist
A new twist in the Websites seized in Project Copy Cat involved the appearance of Secure Sockets Layer (SSL) certificates. SSL certificates provide authentication for financial information, meaning consumers should be able to trust that they are sending information to the intended server and not to a criminal's server.
Trusted SSL providers should only issue SSL certificates to verified companies that have gone through several identity checks.
In addition to providing authentication, SSL certificates also provide encryption, enhancing the security of credit card numbers, usernames, passwords and other sensitive information.
These Websites, however, displayed SSL certificates, further duping the consumer into thinking they were shopping on a legitimate website, potentially putting customers' financial information at risk.
Undercover operation
During this operation, federal law enforcement officers made undercover purchases of a host of products, including baby carriers, professional sports jerseys, language and fitness DVD sets, and a variety of clothing, jewelry and luxury goods from online retailers who were suspected of selling counterfeit products.
In most cases, the goods were shipped directly into the United States from suppliers in other countries. If the copyright holders confirmed that the purchased products were counterfeit or otherwise illegal, seizure orders for the domain names of the Websites that sold the goods were obtained from federal magistrate judges.
"Every day the U.S. economy and American jobs are negatively impacted by criminal organizations engaged in the sale of counterfeit merchandise through rogue websites. Even more importantly, consumer's health and safety can be threatened when they unknowingly purchase counterfeit products," said IPR Center Director Lev Kubiak. "Our goal at the IPR Center is to protect the public's safety and economic welfare through robust intellectual property enforcement and we hope that today's enforcement actions raise the public's awareness to this pervasive crime."
This operation was the next phase of IOS, a sustained law enforcement initiative that began two years ago to protect consumers by targeting the sale of counterfeit merchandise on the Internet. These 70 domain name seizures bring the total number of IOS domain names seized in the last two years to 839.
---