---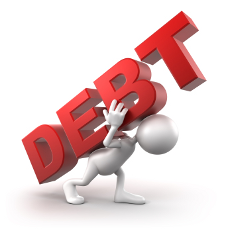 The Federal Trade Commission (FTC) has dropped the hammer on a pair of outfits that lied to consumers who were looking for help dealing with their debts. One of the firms went so far as to trick people by impersonating federal government agencies.
The two firms agreed to settlements with the FTC that ban them from the business of debt relief services.
Fake fed
The FTC obtained one settlement against a telemarketer who allegedly pretended to be affiliated with federal consumer agencies and then steered consumers towards debt relief, tax relief and mortgage assistance relief services by making deceptive claims.
The other settlement resolves FTC charges against an operation that allegedly billed consumers hundreds of dollars in up-front fees, based on bogus promises to either provide them with a new low-interest rate credit card, or work with the consumers' existing credit card issuers to lower the interest rates.
Christopher Mallett
Last year, the FTC charged Christopher Mallett with multiple violations of the Federal Trade Commission Act, the agency's Telemarketing Sales Rule and the Mortgage Assistance Relief Services Rule for misrepresenting his affiliations with federal agencies, misrepresenting that the services advertised on his Websites were government-approved, and making deceptive claims while marketing debt relief, tax relief, and mortgage-assistance relief services.
A San Antonio, Texas-based "lead generator," Mallett promised that the consumers' debts would be substantially reduced or eliminated, in some cases citing specific percentages, according to the complaint. He impersonated the FTC by using its official seal and lifting language almost verbatim from its site. He also created a fictitious government agency -- the "Department of Consumer Services Protection Commission" -- that appeared to combine two real agencies, the FTC and the Consumer Financial Protection Bureau, the complaint stated.
According to the FTC, Mallett created another fictitious government agency on his Website FHA-HomeLoan.info, which featured a picture of the U.S. Capitol building. He called the agency the "U.S. Mortgage Relief Counsel." He also did business using Website names such as gov-usdebtreform.net, usdebtcare.net, and worldlawdebt.org.
The settlement with Mallett bans him from engaging in debt relief, tax relief, or mortgage assistance relief services and prohibits him from making any further misleading claims. It also imposes a $129,695 judgment, which will be suspended due to his inability to pay.
Premier Nationwide Corporation
Last January, the FTC alleged that Eric C. Synstad and the Arizona-based company he controlled, Premier Nationwide Corporation, cold-called consumers, promising to consolidate debts on a new credit card with an interest rate as low as nine percent, or work with consumers' existing credit card issuers to lower monthly payments and interest rates in exchange for an up-front fee that typically ranged from $149 to $599.
The defendants claimed the fee would quickly be offset by the savings achieved from services they provided, and promised that if they could not significantly reduce consumers' debt, they would provide full refunds, minus a 20 percent "processing fee," according to the complaint.
The FTC charged Synstad and Premier with violating the Federal Trade Commission Act and the Telemarketing Sales Rule. Changes made to the Rule in 2010 prohibit companies that sell debt relief services over the telephone from charging fees before achieving the promised results. In January, at the FTC's request, a federal district court froze the defendants' assets and ordered the illegal conduct to stop, pending resolution of the case.
The FTC alleged that in contrast to what the defendants promised, consumers who signed up for the credit card debt consolidation service were merely given a list of banks and told to apply for low-interest credit cards on their own. Those who signed up for the interest rate reduction were told they would have to pay an additional monthly fee to a different company that would work to obtain reduced monthly payments and interest rates, according to the Commission. Also, the complaint alleged that in numerous cases consumers who sought the promised refund were denied.
Synstad agreed to a settlement with the FTC that bans him and his company from marketing debt relief services, and prohibits them from making any further misleading claims.
The proposed settlement imposes a $15 million judgment against Synstad and Premier Nationwide Corporation, which will be suspended due to their inability to pay when Synstad surrenders assets, including most of the proceeds from the sale a 2005 Mercedes and another vehicle, and when he and Premier relinquish money held in two payment processor reserve accounts.
---