---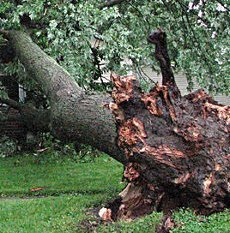 As of today, Pepco, the utility company that serves part of the Washington, DC metropolitan area, says it has restored power to about about half of the more than 440,000 customers who lost power as a result of Friday's storm.
That means the rest – about 220,000 – are still making do without electricity, not to mention sweltering in the 95 degree heat. Some customers appear to be losing patience.
"I have been without power in my home since June 29th and have been told estimated time for having power again will be July 6th," Amanda, of Gaithersburg, Md., wrote in a ConsumerAffairs post. "This is completely unacceptable. The government needs to step in and fine Pepco for the terrible service they provide. It had been 100 degrees for the last four days. No other company could get away with providing such terrible service."
Shontell, of Washington, DC, calls the restoration time "a disgrace."
"Pepco tries to cover themselves by giving a week window for restoration," Shontell wrote. "Who can live in their homes without air relief?"
Most other utilities in the DC area are far ahead of Pepco in restoring power. In Fairfax County, Va., only 75,232 Dominion Power customers were without electricity as of Monday evening. About 450,000 lost power initially.
Huge repair task
Pepco defends itself by saying its the scope of the repair task is huge by historical standards. As a comparison, at the peak of Friday's storm there were 443,000 customers out of power the company says. This storm caused twice as many outages as Hurricane Irene last August.
"Because each storm and its impact on the electric system are unique, the restoration effort and progress differs as well," the company said in a statement.
But that doesn't satisfy Gerald, of Tacoma Park, Md., who says he's lived in many other parts of the country challenged by Mother Nature.
"My cabin in the Green Mountains of Vermont during several winters produced close to 200 inches of snow per winter - never a power outage," Gerald wrote. "I have lived in this area for 15 years in multiple residences serviced by Pepco, and every time any kind of storm has hit, power has been lost for one to 10 days."
What Gerald overlooks is that Friday's storm hit one of the nation's most populous -- and congested -- areas. A similar storm in a rural area might inconvenience 10,000 or 20,000 people while the Friday storm cut a swath from Chicago to Washington, hitting many cities and croweded suburbs along the way.
Work crews have to pick their way through crowded, darkened streets looking for downed lines. It's hard, dangerous, slow work.
Worst storm since 2003
Pepco, meanwhile, says the storm was one of the most catastrophic weather events that the Mid-Atlantic region has experienced since Hurricane Isabel in 2003. The company, it says, is doing all it can as fast as it can.
"Pepco line crews have been working around the clock during the initial restoration efforts supported by contract line crews," the company said in a press release.
Complicating the restoration efforts are the large number of trees that were blown down during the storm. Before power lines can be restored the trees must be cut up and removed. Consumers can help by not taking out their frustrations on work crews, the company says.
"In order to keep the restoration work on track, and for customer and crew safety, it is important that customers do not engage field crews or impede their progress," Pepco said.
Traffic congestion
One big factor that hampers recovery time is the traffic gridlock that develops following a major storm. Consumers without power tend to pile into their cars, hoping to find a mall or theater with air conditioning. With traffic signals out, traffic quickly becomes an impenetrable mess, slowing down the utility repair crews who are trying to find and fix downed lines.
In fairness, it should be noted that when the weather is good, Pepco is regularly assailed by consumers for trimming trees too close to the bone. But it's those very trees that fall over in storms and cause the problem everyone now complains about.
With storms becoming more frequent and intense as a result of climate change, consumers may want to "harden" their homes and be ready to shelter in place for extended periods.
---