---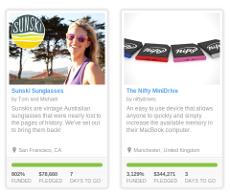 One of the great things about the United States is its diverse pool of people and talents.
Historically, the U.S. has always been a place of bold ideas and world-changing creative inventions. Ever hear of the Internet?
And of course it's not just in the States, but many people around the globe walk around every day with an idea, new business plan, or a solution on how they will fill a gap in the current market place.
In fact there are several websites today that help foster one's dream of starting a new business, creating the next blockbuster movie, or promoting a new invention.
For example, you may have heard of Kickstarter. It's a website that helps people gather the necessary funding to begin, finish or promote a creative project.
How it works
If you have a project that you want to get off the ground, you sign up for the site and input the necessary information to tell the online public what your project is about.
Kickstarter and other sites like it were created for serious projects. They discourage those who want to merely dabble in a new venture and those who have yet to map out a definitive business plan, project or desired result.
So if you're creating a new phone app, let's say, and you've come up with half of the funds to complete it, you can post your project on the Kickstart website and explain how much funding you'll need. You will also communicate what you'll do with the money.
And what's the catch?
There really isn't one. The only thing the site requires, is for the person receiving the funds to offer something of value to the pledgers, whether it be a free CD of your completed album, a mention in the credits at the end of the documentary you're making, or first dibs on that new app.
Kickstarter began in 2008, and has already helped a countless number of people receive funding for their project or invention.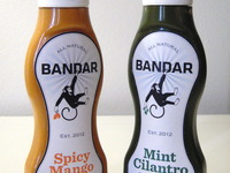 Take Dan Garblik and Lalit Kalani for example. The two Philadelphia residents had an idea to create a series of traditional Indian chutneys to be used as condiments for the general American public. Similar to what U.S. food brands did with the Chinese-food condiment duck sauce.
Garblik and Kalani joined Kickstarter back in June of this year, and told the public about their newly developed condiment and food company Bandar Foods.
They asked for $5,000 for product development, testing and strategy, and by the end of July the duo had received a whopping donation total of $20,192 from the general public.
Don't need money? You can also browse Kickstarter and donate to projects you find interesting or worthwhile.
You might find a project like Natahan Wessel's. He created a more attractive and user-friendly transit map in Cincinnati. If you think your city needs some help, you can donate a few dollars to get Wessel's model promoted and hopefully used more widely.
Donation requests on Kickstarter usually begin at $25 a person, and go up to any number the pledgee feels is necessary to complete their project.
Those putting their project on Kickstarter first need to list the total amount of how much they wish to collect, and the time-frame in which they would like to collect it. If that amount isn't generated within the chosen amount of time, the requestor cannot collect the funds.
If the full amount is achieved, Kickstarter gets five percent of the total, and Amazon gets a payment processing fee of three to five percent.
Indiegogo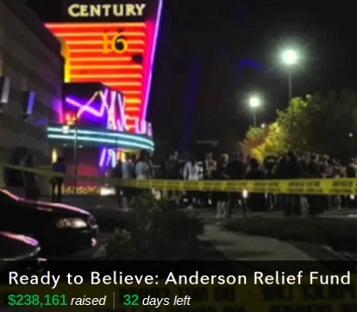 Other sites like Indiegogo allow requestors to collect money for their project whether the full amount is given or not. Also, Kickstarter is set up for creative projects and doesn't allow fundraising for charities on its site.
Indiegogo is a bit more liberal, as a person can post any type of project or charity need on its website.
One of biggest magnets on the site at the moment is the Anderson Relief Fund, which is raising money for 22-year-old Petra Anderson, critically injured in the Aurora, Colorado, theater shooting.
The fees for Indigogo are four percent of the total amount if you reach your goal and nine percent of the sum if you don't achieve your listed amount. Both Indiegogo and Kickstarter allow users to post a project for free.
There are also sites that provide niche funding like 33.com that caters more to those socially-minded people or groups that want to create a project to initiate some sort of change.
For example businesses like HalfUnited that creates clothes and gives some of its profits to needy children, or Emergent Energy Group that that deals with renewable energy initiatives, have received huge amounts from 33.com.
Consumers also can scan the site and contribute to causes they're attracted to.
Network for Good is another site that allows consumers to either start or donate to projects that surround a social cause.
Microloans
Kiva.org works a little bit differently, as the site lets consumers lend money to people around the world in underdeveloped countries. The company allows microfinance companies in various parts of the globe to be a liaison for entrepreneurs who have a desire to create a business and contribute to the area's economic growth.
Unlike Kickstart or Indiegogo, Kiva lends the money to the entrepreneur as opposed to donating it.
A person would use PayPal to make a loan, the money then goes to microfinance institutions, or the "field partners" as Kiva calls them, and the field partners dole the money out to the business that are selected to receive funding.
Then that same process works itself backwards so the lender can receive their money back.
The receiver of the funds pays back the field partner, and the field partner sends the money back to Kiva so the lender can be repaid.
Kiva says they don't charge interest on the loan, but the field partners do and interest rates vary depending on the where in the globe the loan is dealt.
Caution advised
When it comes to using crowd funding sites one should use them with a vigilant eye. Even though most of them genuinely provide a useful service for both pledger and pledgee, there have been a handful of scams related to these types of websites.
Certain projects listed on some of these sites aren't really what they appear to be, and many times the creators exaggerate just how far along the project is in terms of development.
A film student back in 2011 raised over $2,000 for a movie he was suppossedly making. But in fact he simply copied an existing movie kept the money. He's since been caught.
There are also reports of projects receiving money and never being completed, or donors being stiffed on the items or money they were supposed to get back in the exchange.
A good way to know if a project is real is to pay attention to the project's information page. Someone who is serious about their creation will do all they can to show you how it works, what it is, and what it will ultimately do.
Someone who haphazardly throws a project on a site with little detail or proof of development should be ignored. The creator of a project will always provide updates as their endeavor moves closer to completion.
Also do a quick Google search on the person or project to see if there's any Internet history whether good or bad.
And as with anything else, listen to your gut when it comes to deciding whether a project sounds well thought out enough that it will be successful.
There's no use in giving your hard-earned dollars towards something that sounds like it won't work, after all.
---