---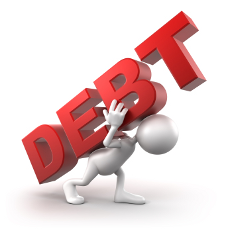 Consumers appear to be making progress in handling their debts. Data from S&P Dow Jones Indices and Experian show another decline in consumer credit defaults.
For some loan types, it was the sixth straight month the default rate has declined.
The default rate on first mortgages fell nine basis points to 1.41 percent in June, bringing it back to its May 2007 level, before the housing market collapse. It reached a high of 5.67 percent in May 2009.
The second mortgage rate also fell during the month, by 15 basis points, and is at an eight year historic low.
The default rate on credit cards fell by 38 basis points to its lowest level since the end of 2007.
Auto loan defaults up slightly
There was a slight increase last month on auto loan defaults but a closer look at the numbers puts it in perspective. The May default rate was the lowest on record.
"June 2012 data continued a positive trend in consumer credit quality," said David M. Blitzer, Managing Director and Chairman of the Index Committee for S&P Dow Jones Indices. "Consumer default rates are falling and we are approaching new lows across most loan types. In the last recession most default rates peaked in the spring of 2009; since then the decline has been bumpy but consistent."
The Indices track default rates in five U.S. cities and in June, the rate was down in four of them. In Chicago, the rate fell from 2.84 percent back in December to 1.84 percent in June, it's lowest reading since August 2007.
The default rate in Miami fell for the fifth consecutive month -- dropping 11 basis points from May's 2.55 percent to June's 2.44 percent. It's the lowest rate for Miami since October 2006. To show just how much the credit climate has improved in Miami, the high -- reached in June 2009 -- was nearly 19 percent.
Meanwhile, Dallas recorded its lowest rate in its eight year history, moving down by seven basis points to 0.87 percent. Los Angeles' default rate fell by a quarter point.
New York the exception
Only New York saw the default rate rise, gaining three basis points over the month, from 1.61% in May to 1.64% in June.
After years of depressing statistics, the latest report on consumer's credit habits can only be described as encouraging.
"There is only positive news in June's numbers," Blitzer said. "In the past three years, households have come a long way in repairing their balance sheets."
Across the 10 headline indices, only one -- bank cards -- shows default rates above 2.5 percent and even those are close to their eight year historic low, Blitzer said.
---