---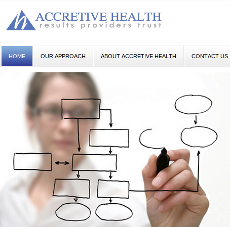 Accretive Health has agreed to pay $2.5 million and will be banned from operating in Minnesota for up to six years as part of a settlement agreement with Minnesota Attorney General Lori Swanson.
Swanson had accused the Chicago company -- which calls itself a "revenue consulting" firm -- of deceiving patients, harassing them for money in emergency rooms and mishandling patient data.
Hospital emergency rooms "should be a solemn place, not a place for a financial shakedown of patients," she said.
Swanson conceded at a news conference that the action might seem harsh but said it was justified by the severity of the case. She noted that of 60 consumers who filed affidavits in the cdase, all but two had valid insurance policies but were still allegedly harassed and intimidated by Accretive agents.
Accretive, one of the nation's largest health care consulting and collection firms, has consistently denied any wrongdoing and said it agreed to the settlement "in order to prevent this matter from being a continued distraction."
Lost laptop
A lost laptop triggered the probe that led to Accretive's banishment.
Swanson sued the company iin January over the loss of an unencrypted laptop that contained data on 23,500 Minnesota patients. That trigged a broader investigation into Accretive's business pratices and led to a highly crtiical report that accused Accretive of using heavy-handed debt-collection tactics that included putting pressure on patients to pay before they were treated.
Some patients said they were asked to pay while in the emergency room, lying on a gurney or hooked up to morphine. One woman said she was asked for payment while she was being treated for a miscarriage, the Minneapolis Star-Tribune reported.
The Minnesota settlement may not be the end of the matter. At least two federal investigations are said to be underway and Swanson said she has furnished several patient affidavits to federal investigators.
Federal law requires hospitals to assess and stabilize emergency room patients without regard to their ability to pay.
Denies wrongdoing
"Even though we believe the claims against us were either baseless or exaggerated, we have used this opportunity to carefully examine our own practices in order to ensure we are setting the very highest standards for our own performance and achieving the best possible outcomes for hospitals, patients and communities." said Mary Tolan, Accretive's CEO. "Entering into this settlement agreement allows our company to put this matter behind us and prevents further distraction from the important work that we do for our hospital clients."
"The Minnesota Attorney General's actions towards Accretive Health were unnecessarily aggressive and, unfortunately, will cost more than 100 Minnesotans their jobs," she added.
---