---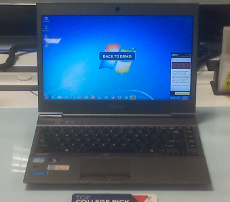 Earlier this month, Toshiba released its Satellite U840Ultrabook, and the company claims it's the perfect portable laptop. That bold claim alone made me go to see the computer myself, especially since I've owned a Toshiba Satellite L655D for years, until it overheated and stopped working a ways back.
I was a bit gun-shy to look at another Toshiba, but I trudged on and went to a Best Buy display area to run some tests and comparisons.
Don't get me wrong. Toshiba has lots of loyal users. It has a reputation for making solid, serviceable laptops at a reasonable price. Sort of the Toyota Camry of computers.
We checked the comments of 1.8 million posters to social media and found Toshiba hovering around an 80 percent positive rating, which is good anyway you look at it.
The comments we checked through computerized sentiment analysis found consumers generally happy with their Toshibas, although one has to wonder how many have ever tried anything else.
ConsumerAffairs readers were, as usual, much tougher, giving the brand just a 1.5 rating on a scale of 5.
Methodical exam
Before checking out the laptop, I was careful to jot down each of Toshiba's product claims about the Ultrabook, and check-listed each one.
The multinational Japanese company's primary claim, is the UltrabookU840 is one of the most portable laptops on the market. I even overheard the store salesperson telling someone 'If you work outside of your home a lot, this is the one you want', pointing to the new Ultrabook.
Pretty portable
Was it especially portable? I would have to say yes. Just upon appearance the laptop looked incredibly thin, and upon picking it up, I imagined its lightness would be really easy on the shoulder and arms if it had to be carried on a regular basis. So check plus for ultra portability.
Toshiba also says the new Ultra book is ultra-rich with sharp, lifelike imaging, powered by HD 4000 graphics, but I wasn't all that impressed.
Don't get me wrong, the picture was pretty darn good, far superior to my previously owned Toshiba, but with Apple recently wowing my eyes with its, New MacBook Pro and iPad 2, the U840's screen view was underwhelming. The resolution is 1366x768, which is pretty much industry standard these days.
The laptop is also advertised to be extra fast in its boot-up time, and is supposed to be booted and ready to go within 14-seconds. Just to time it, I shut down the laptop just to turn it back on again. I did that two times, and the Ultrabook fully booted in 12 seconds and 13 seconds respectively. Not bad.
Crisp audio
The U840 also is supposed to have superior audio, far better than its predecessors. It features include SRS Premium Sound 3D, which claims to automatically adjust sound to ensure proper bass, plus the mid and treble tones. Toshiba also says its speakers are of better design, and all movies, games, and music will sound crisp and distortion-free.
I give the new laptop a check plus in the audio category. After running a few Youtube videos, and playing a couple of songs, I noticed the speakers were noticebly better than I expected.
Definitely a step above most laptop speakers I've encountered. It's always baffling why putting decent speakers in a laptop is so difficult for computer companies. Toshiba apparently has thought the same thing and has made some needed improvements to its speakers.
Chintzy keyboard
I didn't like the keyboard though. It was too tiny and the buttons were incredibly close together. I know one has to get used to smaller keys, and at first use your fingers may not be adjusted, but several laptop designers have figured out how to make a compact device without sacrificing necessary finger space or softer buttons.
In today's email/Facebook, text-heavy world, buttons are everything. Just ask Blackberry who's taken a profit dive since Apple made everyone want a touchtone screen instead of hard Blackberry buttons.
Another check minus for the U840 is the fact it only has one USB port. With the many gadgets and the loads of information people transfer, having only one port could really be an annoying inconvenience. But the laptop having a long nine=hour battery life slightly compensates for the single USB port.
The overall processing speed of the laptop was up to par. No computer speed records were broken upon testing it, but it passed my personal-user-impatience-test. I was told the laptop should handle any task that requires heavy video processing, and will maintain its speed over time. That remains to be seen though.
Plain Jane
As far as the overall look of the U840, it's quite straightforward looking. No pretty colors, no sleek design, just a basic no-nonsense look. The serious appearance of the laptop makes it look like it was built for crunching numbers, and nothing else.
The battery compartment is locked by tiny screws, so one just couldn't easily slip off the compartment door to replace or check the battery. A Phillips screwdriver will be needed, and that could be an eventual hassle.
And since my last Toshiba overheated, I especially wanted to see how hot the U840 felt after being on all day in the store's display area. It was actually cool to the touch.
The vents that are used to extract the computer's hot air were both on the back and bottom of the laptop, and the vents are much bigger than older models. The L655D series only has small venting on the base and side of the computer, which is why my old laptop had a tough time cooling off.
Overall, the Toshiba Satellite U840Ultrabook is sufficient for basic computer needs, and its best feature is the laptops thinness and lightweight. Anyone who totes their laptop around on a regular basis should be pleased with how portable the U840 really is.
At $799.99 for the 13-inch version, consumers will find the price comparable to similar-sized laptops with similar functionality. As far as performance, it opened photos, streamed video content, and loaded screens quite normally, with no noticeable flaws in that area.
However, the bland look, coupled with the small keyboard and resistant buttons, didn't make me want to head to the store register for a purchase. But it did make me wonder why it took Toshiba so long to release a better laptop than the model I bought.
---