---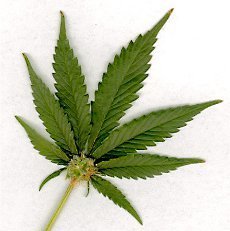 Many teens believe smoking pot is healthier than smoking cigarettes. This is according to a new study by the Center for Disease Control and Prevention (CDC), that says teenagers are inhaling more cannabis than nicotine nowadays.
Advertisements about the harms of drug use were extremely prevalent in the 80s and 90s, as many remember the "this is your brain on drugs" commercials. But in recent years, health groups have focused more on the growing cigarette problem among teenagers, after statistics showed that teen cigarette smoking was on the incline. And the commercials seemed to work.
From 1993 to 2003, the amount of teen cigarette smokers dropped by a third, from 30.5 percent to 21.9 percent. Also, reports show those who smoked a full cigarette by the age of 13 dropped from 26.9 percent to 18.3. With cigarette health warnings working so well, kids chose marijuana smoking as their new and preferred form of rebellion.
Reports also show that 21.9 percent of teens used pot within the last 30 days, compared to 22.4 percent that admitted to smoking marijuana in that same time frame. And overall 23 percent of high school students said they smoked marijuana in recent days, while 18 percent said they had a cigarette instead, according to the CDC.
In the last couple of years many reports showed a small decline in the overall use of marijuana among teens, but numbers have begun to slowly increase again.
Other reports have indicated that 60 percent of kids who use drugs only use marijuana, and 4.8 million teens admitted to using it at least 20 days of any given month. Also, many studies and reports devoted to teen drug use reported that over 100,000 teenagers are treated for marijuana dependency each year.
Why?
What other reasons besides advertising have kids chosen pot over cigarettes?
Cigarettes have taken on a new stigma among younger generations. Once considered cool and rebellious, cigarettes now appear to be a sign of outdated thinking and unhealth behavior. Many of the entertainers of yesteryear, whether it be movie or rock stars, have used the cigarette as part of their hip motif, but no longer.
Many singers, rappers, and actors have openly discussed smoking pot, and arguably influenced younger and more impressionable fans to do the same. At the very least the entertainment industry has removed some of the taboo and criminal perception of marijuana, especially among teenagers. Also, with many states legalizing the medical use of marijuana, teens have taken it as a sign to consider pot less harmful.
It will be even a bigger challenge to keep pot out of the hands of kids as more and more states in the U.S. are making it more accessible through commercial sale, which also makes it easier for more marijuana to be on the streets.
---