---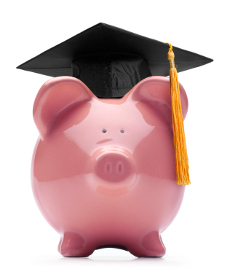 A lot of kids have their eyes set on college, but most still feel their parents are solely responsible for footing half of the bill.
The London based company Legal & General Investments, ran a study that suggests 28 percent of UK students expect at least half of their university fees to be picked up by their folks. In addition, only eight percent said they plan to pay college fees themselves by eventually getting a job.
This is a bit of a generational shift, as many students of the past associated college fees with getting work studies, side jobs or trying to get grants or scholarships. But as Bob Dylan once prophesized, the times are a'changing.
Well, they're kind of a'changing, as researchers found that over a quarter (26 percent) of children intend to assist their parents with college fees, and 18 percent of that same group say they will secure a part-time job and share the financial responsibility with mom and dad. Sadly, seven percent of children say college is merely a dream, and feel although they would like to attend, neither them or their families will be able to afford the costs.
The study consisted of 1,000 school children in the UK, between the ages of 6 through 15, and researchers say their answers provide keen insight into their plans for higher education and the necessary finances that will pay for it.
Significant support
"Our research shows that children expect significant financial support into adulthood," said Marketing Director of Legal & General Investments, Claire Evans. "University fees are at an all-time high and the cost to fund a child through a three year course can cost tens of thousands of pounds."
Evans also points towards the fact that it's really the parents responsibility to ensure their children will have the very best chance to thrive in an extremely competitive job market, that will more than likely be even more competitive by the time these young school children enter the university ranks.
In August of 2011, BBC News reported that the average debt for a student in the UK will be £53,000 (about $81,000) in 2012, and school fees increased by 6.4 percent from the previous year. With university fees growing at that fast of a rate, many families are concerned about being able to foot the bill by the time their younger children become college age.
"We believe that saving for your children's future is vital," said Evans. "Set against a backdrop of increased university tuition fees, it is paramount that preparations are in place to give children the very best start in adult life. All parents want to provide their children with choice and opportunity as they approach adulthood and ensuring money is available will help ease the transition."
---