---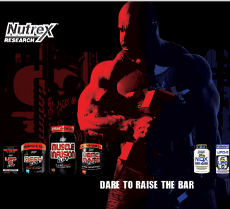 Nutrex must face class-action claims that its body-building diet supplements contain a powerful stimulant banned in professional sports, a federal magistrate has ruled.
The case arises out of a complaint by Stephen Rush, who charged that Nutrex Research and its founders violated California's fair business laws by marketing the supplements as safe muscle builders despite their alleged knowledge that the products were ineffective and dangerous because of the use of the chemical stimulant DMAA, Courthouse News Service reported.
Several countries and Major League Baseball have banned DMAA or geranamine, which is growing in popularity among young people as a designer "party pill."
In the suit, Rush and his girlfriend say they bought two of Nutrex's products -- Hemo Black Rage Ultra Concentrate and Lipo 6 Black Hers Ultra Concentrate -- and used them for about six weeks. They said that during that time, they felt jittery, anxious, had a racing pulse, and felt exhausted if they did not use the products. Rush said he didn't know the products contained DMAA and also didn't know that DMAA can cause stroke or death.
U.S. Magistrate Laurel Beeler refused a motion by Nutrex that the claims be dismissed and said Nutrex had not properly challenged Rush's charges. "If Nutrex has not challenged all theories supporting Rush's claims, then the claims survive and the court does not need to address Nutrex's arguments on the merits," Beeler wrote.
The new ephedra?
DMAA has been finding its way into the gym bags of more and more body-builders since ephedra was banned because of safety concerns and is also becoming popular among dieters hoping to find the mythical "fat burner."
Body-builders say the substance gives them the energy and concentration to make their way through a strenuous workout while the overweight hope it somehow helps them lose weight without setting foot in a gym.
But critics say DMAA is dangerous. It acts in the body like ardenaline, which is normally produced in times of stress and physical danger. Taken regularly, it can cause complications ranging from high blood pressure to stroke and death.
Writing recently in Archives of Internal Medicine, Dr. Pieter Cohen, an assistant professor at Harvard Medical School and general internist at Cambridge Health Alliance, said the chemical is potentially dangerous and challenged manufacturers' claims that it is a natural substance.
Marketers sometimes claim that DMAA is a natural substance derived from geraniums but Cohen said there is no evidence that this is true.
The compound, also known as 1,3-dimethylamylamine or methylhexaneamine, was patented as a nasal decongestant decades ago and is similar in structure to ephedrine and amphetamine.
The U.S. Food and Drug Administration (FDA) banned ephedra in 2003, years after consumer and health advocates began calling on them to do so. The Feb. 16, 2003, death of Baltimore Orioles pitcher Steve Bechler, who keeled over from heatstroke after taking the herbal stimulant, reignited a long-simmering debate over the safety of the substance.
---