---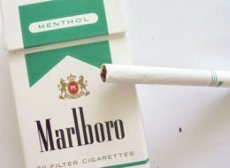 Hey smokers, are you enjoying that cigarette right now? Well it soon might not be so enjoyable as cigarette prices are expected to see a tax increase and overall price hike in the very near future.
Cigarette packs are expected to see a rise somewhere in the range of 5 and 7 cents, according to the managing director at Wells Fargo Securities Bonnie Herzog. Philip Morris USA is rumored to be releasing a new cigarette price list, that will surely frustrate many smokers and probably cause them to need another cigarette. Talk about a catch-22.
In a survey from Wells Fargo Securities, it was shown that over 70 percent of respondents expect to see a rise in cigarette costs by the close of June, and states like Illinois and California could see prices increase even higher, as folks head to the polls to vote on Proposition 29. If the bill is passed, it would raise the state's excise tax from 87 cents to $1.87, and affect other tobacco products such as cigars, chewing tobacco and hand-rolled tobacco.
Illinois has also increased its state excise tax by $1 per pack, giving smokers another reason to quit, bringing the new state tax to $1.98.
Smokers endure
But as history suggests, smokers will more than likely accept the price hike, as past increases did little to assist smokers in quitting. Just like price hikes in foods, alcohol and other beverages did little to curb consumer want, cigarette tax hikes won't sway a person that still desires to inhale. Whether it stops children, which are the cigarette companies chief target, from smoking is arguable. However, such tax increases does provide states with needed funding for cancer and other types of health research.
Some states such as Massachusetts have said that cigarette tax hikes could save at least $1 billion in the state's long term health costs.
"The California proposed tax increase has had a higher profile as California has approximately 7 percent of the U.S.'s smoking population, nearly double Illinois' approximately 4 percent," said Herzog.
"Regardless, while tax increases may cause a temporary volume disruption, we feel that, after an initial shock, these increases would be absorbed as consumers become conditioned to accept higher price points. In other words, we don't see an incremental negative volume impact that would alter the long-term industry decline rate of approximately 3.5 percent."
"Further, all else equal, a tax increase would narrow the relative price gap between premium and discount brands which could actually soften potential downtrading pressure," she said.
---